Nickerie.Net, maandag 13 maart 2006
---
Water gevonden op maan Saturnus
Het ruimtevaarttuig Cassini van de Amerikaanse ruimtevaartorganisatie NASA heeft mogelijk een geiser ontdekt op Enceladus. De ontdekking voedt de discussie over de mogelijkheid van het bestaan van leven op de maan van Saturnus.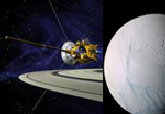 De ruimtesonde Cassini heeft foto's gemaakt van de maan Enceladus

Op foto's van de sonde is te zien dat in de buurt van de zuidpool van Enceladus grote stralen water uit de grond spuiten. Die veranderen onmiddellijk in ijs, omdat de gemiddelde temperatuur op de planeet minus 193 graden Celsius is.

Wetenschappers denken dat dit betekent dat vlak onder de oppervlakte van de planeet reservoirs met water in vloeibare vorm zijn. Dat zou het bestaan van leven op de planeet mogelijk maken.

Water
De maan Enceladus, die een diameter heeft van ongeveer vijfhonderd kilometer, is niet de enige plaats in het heelal waar vloeibaar water is vastgesteld. Wetenschappers denken dat op Mars en op Europa, een maan van Jupiter, water voorkomt.

De Cassini-Huygens missie is een samenwerkingsproject van de NASA, de Europese ruimtevaartorganisatie ESA en de Italiaanse ruimtevaartorganisatie ASI. De satelliet werd in 1997 gelanceerd en draait sinds 2004 om de planeet Saturnus.

Titan
Het fotomateriaal dat de sonde aanlevert, stelt onderzoekers in staat Saturnus, zijn ringen en zijn manen te onderzoeken. In 2005 ontdekten wetenschappers met behulp van de foto's een meer van vloeibaar methaan op de maan Titan

De NASA-wetenschappers krijgen in 2008 de kans Enceladus beter te bestuderen. Cassini vliegt dan op een afstand van 350 kilometer langs de maan.
---
| | |
| --- | --- |
| PIA07801: Spray Above Enceladus II | |
| | |
| | |
Original Caption Released with Image:

Plumes of icy material extend above the southern polar region of Saturn's moon Enceladus, as imaged by the Cassini spacecraft in January 2005. The monochrome view is presented along with a color-coded image on the right. The view in this image is perpendicular to the tiger stripe fractures that straddle the south pole. Another plume view, PIA07798, was taken one month later and looks along the tiger stripe fractures. See PIA06247 for a view of the tiger stripe features.

Images like these are being analyzed by scientists as they seek to explain the processes that could be producing such incredible features. As reported in the journal Science on March 10, 2006, imaging scientists believe that the plumes are geysers erupting from pressurized subsurface reservoirs of liquid water above 273 degrees Kelvin (0 degrees Celsius).

These images were taken with the Cassini spacecraft narrow-angle camera at a distance of approximately 209,400 kilometers (130,100 miles) from Enceladus at a Sun-Enceladus-spacecraft, or phase, angle of 148 degrees. The image scale is about 1.3 kilometer (0.8 mile) per pixel.

A slightly different version of this image product was released in Nov. 2005. See PIA07760.

The mosaic is an orthographic projection centered at 46.8 degrees south latitude, 188 degrees west longitude, and has an image scale of 67 meters (220 feet) per pixel. The original images ranged in resolution from 67 meters per pixel to 350 meters (1,150 feet) per pixel and were taken at distances ranging from 11,100 to 61,300 kilometers (6,900 to miles) from Enceladus.

The Cassini-Huygens mission is a cooperative project of NASA, the European Space Agency and the Italian Space Agency. The Jet Propulsion Laboratory, a division of the California Institute of Technology in Pasadena, manages the mission for NASA's Science Mission Directorate, Washington, D.C. The Cassini orbiter and its two onboard cameras were designed, developed and assembled at JPL. The imaging operations center is based at the Space Science Institute in Boulder, Colo.

For more information about the Cassini-Huygens mission visit http://saturn.jpl.nasa.gov/home/index.cfm. The Cassini imaging team homepage is at http://ciclops.org.

Image Credit:

NASA/JPL/Space Science Institute
Bron/Copyright:

Rob van Gemert / Elsevier / Nasa / Nickerie.Net

,13-03-2005


E-mail: info@nickerie.net
Copyright © 2006. All rights reserved.
Designed by Galactica's Graphics