Nickerie.Net, maandag 24 april 2006
---
Guyanse minister van landbouw Satyadeo Sawh vermoord
24/04/2006
GEORGETOWN - De moord op landbouwminister is onderdeel van een "duister plan" om Guyana te destabiliseren in aanloop op de komende verkiezingen. Dat zegt de Guyanese regering in een verklaring na een zaterdag gehouden spoedvergadering. De bewindsman werd zaterdagochtend vroeg door gewapende mannen in zijn huis doodgeschoten. Ook een broer en een zus, die op vakantie uit Canada waren overgekomen, en een bewaker zijn doodgeschoten.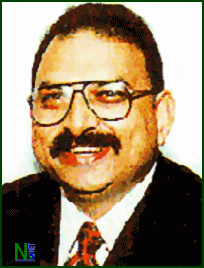 Vermoorde minister Satyadeo Sawh
De politie behandelt de zaak vooralsnog als een roofoverval. Tot nog toe zijn geen aanhoudingen verricht. President Bharrat Jagdeo heeft er bij de politie op aangedrongen de daders op te sporen en op de gemeenschap deed hij het beroep zich kalm te houden en de eenheid te bewaren. "We moeten een signaal sturen naar de moordenaars en hun opdrachtgevers, dat we ons niet uit het veld laten slaan en dat de natie juist sterker wordt", zei het staatshoofd zaterdagavond in een toespraak voor radio en televisie.
De echtgenote van de vermoorde bewindsman, die zich in de woning had verscholen, verklaarde tegenover Associated Press, dat de slachtoffers zijn doodgeschoten, ofschoon ze reeds geld – US 120 dollar – en sieraden aan de overvallers hadden afgestaan. "Het riekt naar een politieke moord, maar het motief is vooralsnog onduidelijk", zei regeringswoordvoerder Robert Persaud.
Na het spoedberaad verklaarde de regering dat de moord bedoeld is om de situatie in het land te destabiliseren. De verkiezingen, die gepland waren voor 4 augustus zijn enkele dagen geleden verschoven, maar een nieuwe datum is nog niet bekendgemaakt. De moorden "schijnen een goed voorbereide en uitgevoerde moordaanslag door een grote, zwaarbewapende bende te zijn", luidt een passage uit het communiqué van de regering.
Politiechef Winston Felix die zaterdagmiddag een persconferentie hield zegt dat het mogelijk een roofoverval betreft. De politie heeft echter wel maatregelen getroffen om de veiligheid van ministers en andere hoogwaardigheidsbekleders op te voeren. Ondertussen wordt ook onderzocht of drugshandelaars of criminele bendes betrokken zijn bij de moorden.-.
---
Meer nieuws over de moord op Minister Sawh
'DREAD NEWS FOR CARICOM'
Grenada's Mitchell on murder of Minister Sawh
By Rickey Singh
BRIDGETOWN -- Grenada's Prime Minister Keith Mitchell has deemed the murder of Guyana's Minister of Agriculture, Satyadeo Sawh as "dread news, at this distressing period for our Caribbean Community".
The first CARICOM head of government to publicly comment on Saturday night's slaughter of the 50-year-old Cabinet minister and three others, Mitchell said yesterday:
"Speaking for my government and the Grenadian people, this is certainly not the kind of development we need at this time when the focus must be on national unity and political stability".
Grenada, he noted has had "its bitter experiences in political killings, violence and instability. So we know how much it hurts for any sister state of our Community to now go through the very disturbing situation Guyana is experiencing".
As he spoke, CARICOM's Foreign Ministers were in a closing plenary session at the conference centre of the Grenada Beach Resort and were expected to approve a statement denouncing the killing of the Guyanese minister and expressing their deep concerns.
Current CARICOM chairman, Prime Minister Patrick Manning, could not be reached for a response.
Manning was yesterday involved in arrangements for the three-day official visit to the twin-island state by Jamaica's new Prime Minister, Portia Simpson-Miller, due there today on his invitation.
But Opposition Leader and Chairman of the United National Congress (UNC) Basdeo Panday, said that the murder of Sawh was a dramatic demonstration of the level of violence that has now entered politics within CARICOM.
According to a report in yesterday's "Sunday Express, the former Prime Minister said: "I think the politics of the Caribbean is degenerating to the level of violence from which there will probably be no return..."
In a national broadcast on Saturday evening, President Bharrat Jagdeo, whose government is treating the murder of Sawh as an act of planned "assassination", appealed:
"Let nobody succumb to this callous assassination by showing disrespect to fellow Guyanese. Instead", he said,"let us strengthen our commitment to each other..."
Arrangements were yesterday being finalised for cremation tomorrow afternoon of Minister Sawh's body at the Good Hope Crematorium site on the East Coast of Georgetown.
Anticipating thousands of mourners in attendance, the Guyana Police Force is planning tight security arrangements to avoid any disturbances, while continuing their round-the-clock investigations into the Saturday night slaugther by heavily armed gunmen at the East Coast home of the minister.
Government officials visit home of slain security guard
MINISTER of Local Government and Regional Development, Harripersaud Nokta and Deputy Head of the Presidential Secretariat, Hydar Ally, yesterday visited the Leopold Street, Georgetown, home of Curtis Robertson, the guard who was assassinated along with Acting Minister of Agriculture, Satyadeow Sawh and his siblings.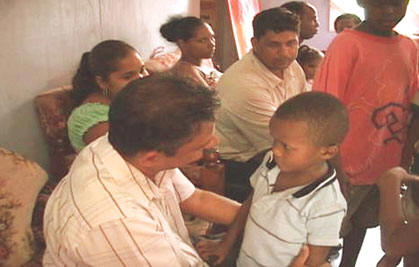 Robertson has left to mourn his reputed wife Rehanna Haywood through which a common-law union bore seven children, 14 months to 12 years.
During the visit, the officials expressed condolences on behalf of the government to the wife, other family members and friends of the slain guard.
Haywood described Robertson as a man who loved to make jokes and who had much respect for the late Minister.
She noted that he was well trusted by the Minister with whom he shared a very good relationship.
"He always believed in that Minister," Haywood reflected.
Robertson was attached to the Strategic Action Security Services for the past ten years and stationed at Minister Sawh's residence for more than two years.
The Minister was assassinated along with his brother, Rajpat Rai, sister, Phulmattie Persaud and Robertson during an attack which also left several others injured on Saturday night at his home in Earle's Court, La Bonne Intention (LBI), East Coast Demerara (GINA) .
Minister Sawh's funeral tomorrow
The Government of Guyana will pay official tribute to the late Minister of Fisheries, Other Crops and Livestock and Acting Minister of Agriculture, Honourable Satyadeow Sawh during a ceremony on the lawns of Castellani House, Vlissengen Road, Georgetown at 9:30 hrs tomorrow.
Before the official tribute, the People's Progressive Party's (PPP's) will pay tribute to the departed 'son of the soil' at Freedom House, Robb Street, Georgetown at 8:30 hrs.
The funeral service for the late Minister will subsequently take place at his residence, Earl's Court, La Bonne Intention, Lusignan at 11:30 hrs, after which his remains will be cremated at the Good Hope cremation site, East Coast Demerara.
Minister Sawh was assassinated on April 22 at around 12:45 a.m. During the attack, the Minister's brother, sister and a security guard were also killed. Two other security guards were shot and are receiving medical attention at the Georgetown Public Hospital. One of the guards remains in critical condition.
Another brother of the Minister was injured during the attack on the family, while the Minister's wife escaped unhurt.
The Government has declared tomorrow a Day of National Mourning in honour of the Minister. It is expected that all flags on Government buildings will be flown at half staff and appropriate music and programming are expected from various media outlets.
A Day of National Mourning
THE Government of Guyana has declared Tuesday, April 25, a Day of National Mourning in honour of the late Minister of Fisheries, Other Crops and Livestock and Acting Minister of Agriculture, Honourable Satyadeow Sawh (MP), who was brutally assassinated on April 22, 2006, at his residence.
Linden community deeply moved RESIDENTS of Linden, Region Ten, has joined the rest of Guyana in mourning the senseless slaying of Minister of Agriculture (Ag), Fisheries Crops and Other Livestock Satyadeow Sawh.
As the community celebrated the opening of its inaugural 'Town-Week' activities, an atmosphere of profound grief and regret permeated the Saturday evening's proceedings and could be felt by all in attendance.
Despite the tragedy which occurred hours before, Prime Minister Samuel Hinds attended the opening ceremony and conveyed the greetings and well-wishes of President Bharrat Jagdeo and Cabinet, which convened earlier in the day for a series of emergency meetings.
Accolades and condolences preceded individual presentations as speakers reflected on the meaningful contributions made by the Minister to the agricultural sector and Guyana as a whole.
A minute's silence was also observed by all in attendance.
The same weapons
Police ballistic tests have linked the assassination of Minister Satydeow Sawh and his relatives Saturday to the murders at Agricola on the East Bank Demerara last month, and killings in Buxton on the East Coast Demerara.
A source says the tests have proven that the same weapons were used in all the killings.
---
Agriculture Minister Satyadeo Sawh assasinated
Also brother, sister and bodyguard killed by gunmen
(Trinidad & obago Xpress)
Ruth Osman and Ricky Singh
Sunday, April 23rd 2006
OPPOSITION Leader Basdeo Panday has said that yesterday's murder of Guyana's Agricultural Minister Satyadeo Sawh proves that violence has entered Caribbean politics. "I think the politics of the Caribbean is degenerating to the level of violence from which there will probably be no return," Panday told the Sunday Express.
Sawh, 50, along with his brother, Rajpat Rai Sawh and his sister, Phulmattie Persaud, were shot and killed early yesterday morning at his East Coast residence. His security guard was also killed.
The minister's wife managed to escape the shooting spree by the invaded killers but details remained sketchy up to last night.
The family had just come home from a private function in Georgetown, and Sawh was relaxing in a hammock on his verandah when seven armed men dressed in camouflage, jumped into the compound and opened fire.
A statement, by the Guyana Government Information Agency (GINA), said that the tragic incident seems to have been "a well-planned and executed assassination carried out by a large, heavily armed gang."
It also expressed fear that the attack was "part of a sinister plan to impact the outcome of the upcoming regional and general elections."
An emergency Cabinet meeting was called yesterday to discuss the implications of the tragedy. President Bharrat Jagdeo, at that meeting, announced that he had instructed the Chief of Staff of the Guyana Defence Force Brigadier Edward Collins and Police Commissioner Winston Felix to do all that was necessary to find Sawh's murderers.
Cabinet will consider seeking external assistance to support law enforcement efforts, the statement said.
The opposition in Guyana, the People's National Congress (PNC), condemned what it described as the "dastardly act" and promised to work with the government to implement policies and programmes aimed at reducing violence in the society.
Sawh, a Canadian citizen, returned to Guyana in 1992 to join the People's Progressive Party (PPP). When the party came into power that year, he was named a Cabinet minister. He had also served as Ambassador to Venezuela.
Guyana remained in a state of shock and fear following the sensational shooting deaths of the senior cabinet minister.
Sawh's murder, is unprecedented in the history of parliamentary politics in the English-speaking Caribbean-outside of the 1983 coup in Greanda with the executions of the Prime Minister and members of his cabinet.
But for Guyana it would be its second such mind-blowing tragedy, as it follows that of the mysterious death from gunshot in October 1979 of Education Minister Vincent Teekah in the government of the late President Forbes Burnham.
Armed police with tracker dogs were engaged in a massive manhunt last night for a group of some seven men dressed in black who shot their way into the minister's home about eight miles east of the capital Georgetown around 12.45 yesterday morning.
They killed his security security guard Curtis Robinson, 38; brother Rajpat Sawh, 62; and sister Phulmattie Persaud, 54, as they blasted their way into the house.
Conflicting reports were of a planned execution hit or with robbery being a primary motive.
Commissioner Felix reported that the gunmen who "stormed the home" demanded cash and jewelry were given G$23,000 (about US$100) by Omprakash Sawh, a 53-year-old brother of minister Sawh.
A further demand for more cash was made but no information was provided whether it was forthcoming amid the bloody chaos.
Both Home Affairs Minister Gail Teixera and the ruling People's Progressive Party of which Sawh was a leading Central Committee member, have described his death as "brutal assassination".
President Jagdeo was scheduled to make a nation-wide broadcast on the killings last night.
Earlier in the day, Opposition Leader Robert Corbin, who heads the main opposition People's National Congress Reform (PNCR), told an emergency press conference of his party's "shock and disbelief" of the murders that had taken place.
In addition to the slaughtered minister and members of his family-some of whom were visiting from Canada, two other security guards from neighbouring homes as well as another brother of the slain minister, were wounded and rushed to hospital.
---
Masked assassins were merciless
Sawh, brother, sister shot in head By Neil Marks THE wife of assassinated acting Agriculture Minister Satyadeow Sawh heard her husband groaning in pain after the masked killers stormed into their house yesterday morning, but had to stay hidden in a bathroom to avoid the assassins.
Sattie Sawh yesterday said she hid, trembling in fear, emerging later to find her husband shot dead, along with his sister and a brother.
As the family and the nation tried to comprehend the horrors of the unprecedented assassination of a top government minister, President Bharrat Jagdeo ordered his security chiefs to take "maximum measures" to find the armed gang responsible for the "well planned and executed assassination".
Those slain with Minister Sawh were his brother Rajpat Rai, sister Pulmatie Persaud and security guard Curtis Robertson.
The murder of the acting Minister of Agriculture and Fisheries, Crops and Livestock at his LBI, East Coast Demerara home, sent shockwaves across the country, and forced President Jagdeo to summon emergency meetings with his Cabinet and security heads to push an intensive probe for which the government said it will consider pursuing external assistance.
No one had been arrested up to last night and the armed men, who Police said were masked and wore camouflaged clothing, left the centre of their bloody rampage on foot, just as they came.
The Police said they are using tracker dogs to pick up clues to the assassins.
While the Police said their initial theory was robbery, the governing People's Progressive Party (PPP), for whom Sawh spearheaded Canadian efforts for the restoration of democracy at home, said the primary motive was to kill the minister and members of his family.
"One of the possible objectives of this assassination might be to foment hatred and violence and fracture the unity of our country," the PPP stated.
Police Commissioner Winston Felix, at a press conference, said he was not ruling out other motives than murder.
The government too expressed concern that the attack might be part of a sinister plot to impact the outcome of the upcoming regional and general elections.
Sawh, 50, fled Guyana for Canada in 1975 at age 19 during the domineering years of the Forbes Burnham regime. He returned to Guyana at the calling of Dr. Cheddi Jagan, who had steered the PPP/Civic (PPP/C) alliance to victory at the 1992 polls.
During the early morning attack yesterday, another brother of the minister, Om Prakash, 53, of Canada, and security guards Albert Mangra, 63, of Better Hope, and Aga Khan, 53, of Lusignan, were wounded.
Minister Sawh was hosting his siblings for the first death anniversary of their mother.
Minister Sawh's wife, Sattie, a prominent member of the Hindu Arya Samaj movement, who was in their Earl's Court, LBI home at the time of the brutal slayings, managed to conceal herself and avoided harm when the killers struck.
Sawh's younger son, Dave, 16, was out clubbing with his cousins, also from Canada, after the elders left Le Meridien Pegasus Hotel where they were socialising.
The Sawh's eldest son, Roger, 19, is away in Canada, where he is pursuing university studies. The Sawhs are all Canadian citizens.
Police said Minister Sawh and the others had returned home from an outing just after midnight Friday when the heavily-armed men opened fire on the road, scaled their southern fence and invaded their home slaying them with 7.62 rifles, among other weapons.
The men attacked Sawh's residence after firing at the guards of Sawh's neighbours.
Mangra, who was on duty at Lot 64, was hit in the abdomen. The gunmen then discharged several rounds at security guard Roopnarine Thakurdin, 53, of Better Hope who was on duty at Lot 63. However, he managed to take evasive action and escaped unhurt.
The armed men then gained entry into the minister's premises by jumping over a southern fence, fatally shooting Robertson in the body. In the process Aga Khan, who was on duty next door, was shot in his abdomen.
The men also shot and killed the minister's dog, then gained entry through an open door where they killed Minister Sawh. He was shot in his left leg, buttocks and head, Police said.
Police Commissioner Felix said the minister was alerted to the gunmen by Om Prakash who was in the kitchen. The brother saw a masked man in camouflage clothing armed with a gun staring at him through the window and he alerted the minister who was on the patio. The minister was reportedly killed before he could dash to safety.
After killing Minister Sawh, they confronted his brother Rajpat and Om Prakash and demanded cash and jewellery. Police said Om Prakash handed over G$23,000 cash, whereupon they were placed to lie on the floor and the men fired at them several times. Rajpat was killed while Om Prakash was wounded in his left side.
The minister's sister Pulmatie, who was in another room, was killed from a close range gunshot to her left side face.
Police said the men then ransacked the house after which they fled. The Police could not determine if articles were stolen during the incident.
Om Prakash was treated at the Georgetown Public Hospital Corporation and sent away, while Mangra and Khan were admitted for further treatment.
SATTIE'S ORDEAL
Mrs. Sawh said she and Om Prakash were in the kitchen when they both saw a gunman at the window. She said she only saw his eyes. At that she rushed to an inner room to call the Police.
Om Prakash scampered to alert the minister who was relaxing in a hammock on the patio. But Minister Sawh barely managed to get out of the hammock and just past the door, where he was shot in his buttocks and leg. Om Prakash was ordered to find cash and jewellery.
Mrs. Sawh said when she reached the room, the phone was not there. Someone had taken it out of the room as there was a blackout during the day and they could not use the cordless phone.
She said when she reached the room, she heard gunshots and jumped into the bathroom inside the room, where she endured the ordeal with her mouth tightly shut.
She said the minister's sister, Pulmatie, was in the same room hiding under the bed, but the gunmen came into the room, dragged her out and shot her in the left side face.
At that time she was trembling with fear, being just a few feet away in the bathroom. She said the men left the room, but she could hear the gunfire continue.
Minister's Sawh's other brother, Rajpat Rai, was gunned down inside an adjacent room. Om Prakash was led right into the room where he was ordered to lie on his brother's bloodied lifeless body. A gunman fired a shot at him, she said, but it managed to graze his side, and he pretended he was dead.
While this was happening, Mrs. Sawh said she knew her husband was alive as she heard him moaning "Ow, Ow," in pain.
However, she dared not leave her place of concealment. She said after the gunfire stopped, she waited for a while before she emerged from the bathroom. She first saw Pulmatie lying dead on the bedroom floor. Then she guardedly opened the room door.
When she went into the sitting room, she saw her husband lying flat on his stomach just past the door inside the house. She saw all the gunshot wounds. She said she suspected one of the men fired the gunshot to the back of his head while they were leaving. This is the bullet she believed killed her husband.
The bullet passed through his head and into the wooden floor. A mat was covering the hole in the floor right next to the chair she sat to relate her story later yesterday.
She stared at the floor and her tears flowed. All of those who died, she said, were shot in the head.
"I am still in shock. I feel numb. I have two sons to consider and I have to see how it goes. I came from Canada because I love Guyana and it would take a lot for me to leave my country," she mustered up courage to say.
DISTINGUISHED SON OF THE SOIL
The PPP in a statement said it is "deeply saddened and distraught" at the assassination of Minister Sawh and the others.
"The preliminary indication is that the primary motive was to kill the minister and members of his family. That there was no resistance from the minister and others showed the merciless and demonic behaviour of the armed gang which came and left on foot heading into the backlands," the party stated.
The party said the minister was a distinguished son of Guyana's soil who made sterling contributions at various levels over the years. He was also a longstanding member and faithful activist of the PPP.
Minister of Home Affairs Gail Texieira, who worked with Sawh in Canada for the restoration of democracy, expressed shock at his brutal slaying.
"Minister Sawh's contributions to the restoration of democracy in Guyana and the strides in the agricultural sector have been widely acknowledged," the PPP added.
The party noted that the slaying of the minister and his relatives comes at a time when certain forces are aggressively at work to spread fear and harm the peace in Guyana as it heads closer to regional and general elections and said one of the possible objectives of this assassination might be to foment hatred and violence and fracture the unity of the country.
This must be resisted at all cost by all peace-loving Guyanese, it said.
The party called on the security forces to ensure that those responsible for this assassination are brought to justice at the soonest and insisted that no lead must be ignored.
The PPP said it will be making a comprehensive statement on this matter after its leadership makes a fuller assessment of this situation and when more information is available.
The party extended deepest condolences to the family and relatives of Minister Sawh and hoped that those injured would have a speedy recovery.
SERVING COUNTRY
Sawh was one of those Guyanese who fled Guyana under the harsh years of the Burnham government. He was born at Mahaicony, East Coast Demerara, the last of nine children. His parents were farmers and brought him up from their stall at the Stabroek Market in Georgetown. Their home and small business was destroyed in the riots of 1963. He lived in many parts of Guyana before heading to Canada.
There he attended York University and attained a degree in economics. During his 20 years in Canada, he headed the PPP's support group there.
"My entire spare time was spent with the Association of Concerned Guyanese, of which I was President for about a decade. When you think of it, regrettably, I don't have a personal friend, I don't have a sport, I don't have any kind of music," he said in an interview with Chronicle Editor-in-Chief Sharief Khan, published May 4, 1997.
"Besides a job earning a living with a family, all the spare time I had was in one way or the other spent on the association. I was the Editor of the Guyana Current newspaper for the same period of time. That was the party paper. Then organizing meetings when the late President (Dr. Jagan) came, mobilizing people to keep the flag flying and believe me, Sharief, now it is easy. But those times were difficult and trying times," he added in the interview.
When the PPP swept the October 1992 polls, Sawh was appointed Ambassador to Venezuela, where he served for about three and a half years. At the same time he served as Ambassador to Colombia and Ecuador.
Then President Cheddi Jagan invited him to serve in his government and he accepted the portfolio of Minister within the Ministry of Agriculture, serving with Minister Reepu Daman Persaud as his senior.
"I like going out and meeting people, I like trying to help particularly small people, poor people," he said, having then been on the job for six months. He would spend the next nine years of his life doing just that.
Tributes to the memory of Sawh are pouring in.
Sawh assassination is attack on democracy
President `If we allow this murder to create division, then we hand victory to the enemies of this State' PRESIDENT Bharrat Jagdeo last night declared that the assassination yesterday of acting Agriculture Minister Satyadeow `Sash' Sawh was an attack on democracy in Guyana and appealed to Guyanese to rally to beat back the "forces of destruction".
In a statement broadcast on TV and radio, he said Guyanese democracy was yesterday morning "attacked by forces which seek to destroy everything that this nation represents."
"The callous assassination of Minister Satyadeow Sawh was not primarily an attack on an individual, but instead, it was a deliberate assault on the values of our nation. It was an attempt to destabilise our democracy and everything that we have fought so hard over the years to achieve."
He added:
"We wish to express our deep sorrow and condolences to Sash's family, friends and colleagues. The pain they are experiencing at this moment cannot truly be understood.
But let us be clear.
As a nation, we will face down this threat; we will destroy those who seek to wound us, and the peaceful and democratic will of the Guyanese people will prevail. Our democracy will survive, and the institutions of our State will continue to function and serve the people of this country.
I have indicated to the Commissioner of Police to take all necessary steps to find the murderers who carried out this cowardly act. The police will get every assistance that they need from the government. We will also be seeking external assistance in tracking down these murderers.
But that is just part of the response. For generations to come, people will look at how we dealt with this assault on our country, and their judgment will reflect whether the forces of decency and democracy emerged stronger, or whether we allow the forces of destruction to defeat us.
I say to all Guyanese: let us track down those who committed this act. Anyone who has any information about this morning's attack must fulfill their patriotic duty, and inform the police of all that they know.
Simultaneously, let us reaffirm the values of our country.
Let nobody succumb to this attack by showing disrespect to our fellow Guyanese; instead, let us strengthen our commitment to each other. And let us send a signal to the murderers and those who directed them that we will not be defeated. We will emerge stronger, and we will preserve our democracy and way of life.
The work of our government, the work that Minister Sawh was deeply committed to, will continue. We will carry on the fight for the success of all our people. We will continue to improve the economy. We will continue our massive investments in public services. And we will continue to strengthen our efforts to unleash the potential of businesses to create jobs and generate economic wealth. In addition to tough law enforcement, this is the appropriate response to those whose bankrupt idea of development is carried out through the barrel of a gun.
Above all else, we will not let this attack achieve its purpose – we will not let it tear us asunder, but instead, we will recommit ourselves to the creation of a peaceful, prosperous, and prejudice-free Guyana. We will show the world that the decent people of our country can create a future in which all our people can live, work and prosper together.
If we allow this murder to create division, then we hand victory to the enemies of this State.
So fellow Guyanese – speak to your friends, speak to your colleagues, speak to your neighbours. Make it clear to them that you are part of Guyana's noble response to this attack, that you will not tolerate any division among our people, that you will support the police and security forces as they seek to rid our society of this evil, and that you will not allow fear to take over your lives.
Sash Sawh was my colleague. He was a hard worker, and someone who returned to this country and made a tremendous contribution to our nation's development. We will miss him in the Cabinet as I am sure that the farmers, fishermen and others whom he served and interacted with on a daily basis will miss him. I saw first hand his dedication to the people of this country. Let us commemorate his life by holding the line, and destroying those who want to divide us. Let history record that we faced down this grave threat, and emerged as a stronger and more united country.
I know the Guyanese people. I know that we have the qualities we need to do this.
My Cabinet met this morning, just a few hours after this gruesome act, and reiterated our collective resolve to put even greater effort in our work to improve the life of every Guyanese. We think this is what our dear departed colleague would have wanted.
I ask all Guyanese to join with us and declare with one voice that we will not be defeated by our enemies, but instead we will destroy them, and continue together on our path to create a socially just and prosperous Guyana."
PNCR calls Sawh slaying `brutal' -- deeply concerned about likely impact THE main opposition People's National Congress Reform (PNCR) yesterday reacted with "shock and disbelief" to the "brutal slaying" of acting Agriculture Minister Satyadeow Sawh, two siblings and a security guard.
In a statement, the party extended sincere condolences to Mr. Sawh's grieving wife, family and other relatives, the government and the People's Progressive Party.
The PNCR said it "unreservedly condemns this dastardly act."
"The killing of the minister, in our prevailing circumstances, poses a severe challenge to this nation in political, social and security terms. The situation demands leadership, prudence, patience and responsibility to ensure that the national interest is promoted and protected", it said.
It reiterated its condemnation of violence of all forms and pledged to continue to work with all stakeholders within the society, including the government, to design, craft and implement policies and programmes which can reduce and finally end this scourge that has already brought grief and major psychological trauma to so many families and great harm to the economy.
The PNCR said it is "deeply concerned about the likely impact of this development on the political and social climate of the nation, because this situation is not conducive to healthy political interaction and the building of a truly democratic polity."
It added that it believes that it is in the national interest that the Guyana Police Force identifies quickly the perpetrators of this dastardly act so that they could be brought to justice.
At a press conference at the PNCR Congress Place headquarters, party and Opposition Leader, Mr. Robert Corbin said the killing of the minister is a matter of grave concern to his party and the nation as a whole.
He said while there has been a notable increase in violent crime recently, the fact that it has reached the point where a government minister was killed was a troubling development.
This was cause for concern not just for senior government officials, he said, but for the general high level political leadership in Guyana as a whole.
Corbin said although security concerns were always a priority for the PNCR, the incident prompted him to call together the party leadership for an emergency security meeting scheduled for after the press conference yesterday morning.
"We would like to urge all parties to act responsibly," he added.
Assassination may be linked to elections
Cabinet fears CABINET is concerned that the assassination yesterday morning of acting Agriculture Minister Satyadeow Sawh may be linked to general elections due this year, the government said in a statement.
The statement issued after an emergency Cabinet session President Bharrat Jagdeo summoned, said the initial security update indicated that the murder of the minister and others was a well-planned and executed assassination by a large heavily-armed gang.
"The Cabinet expressed the concern that this attack might be part of a sinister plan to impact the outcome of the upcoming regional and general elections", the statement said.
Elections were constitutionally due by August 4 this year but the Guyana Elections Commission has advised President Bharrat Jagdeo that it cannot meet the deadline.
Here is the full statement:
"The Cabinet met (yesterday) at State House for an emergency meeting summoned by His Excellency, President Bharrat Jagdeo following the slaying of the Minister of Agriculture, Mr. Satyadeow Sawh, his brother,
Rajpat Rai, and sister, Pulmatie Persaud, and a security guard - Curtis Robertson at his residence – Earle's Court, LBI, East Coast Demerara.
The Cabinet strongly condemns the killings.
The President reported on his most recent briefing by the Chief of Staff of the Guyana Defence Force, Brigadier Edward Collins and the Commissioner of Police, Mr. Winston Felix.
The security chiefs were instructed to take maximum measures to investigate and apprehend the perpetrators of this heinous crime. The Cabinet will consider pursuing external assistance to support local law enforcement efforts.
Based on the initial security update provided to the Cabinet, the murder of the minister and others seemed a well-planned and executed assassination by a large heavily-armed gang. The Cabinet expressed the concern that this attack might be part of a sinister plan to impact the outcome of the upcoming regional and general elections.
The Cabinet urges all Guyanese not to be misled and to prevent extremists from hijacking the political agenda of the country. Additionally, to recognize this period as a time for sober reflection and support for aggressive efforts by the State and by all peace-loving Guyanese to unite.
The Cabinet noted the contribution and dedication of Minister Sawh in the agricultural sector as well as his role in the national response to the flood disasters. Minister Sawh's impressive stint as a former Ambassador to Venezuela was underscored as well as his activism for many years in the Guyanese diaspora in Canada. His death is a great loss to the Cabinet and people of Guyana.
The Cabinet recalled the sacrifices made by Minister Sawh and his family to return to Guyana from Canada to make his contribution to the betterment of all Guyanese. The Administration remains firmly committed to fulfilling that noble ideal of improving the living conditions of all our people.
With immediate effect, all flags at government and State buildings will be flown at half-mast. A day of national mourning will be announced as well as other arrangements to recognize the contributions of Minister Sawh.
The Cabinet expresses its deepest condolences to the wife, children, relatives and friends of Minister Sawh and others who were murdered.
The Cabinet thanks the many Guyanese and groups for their expressions of grief and words of comfort at this difficult time."
Bron/Copyright:

DWT/ Guyana Chronicles / Trinidad Express Nickere.Net

,24/04/2006


E-mail: info@nickerie.net
Copyright © 2006. All rights reserved.
Designed by Galactica's Graphics