Nickerie.Net, zaterdag 30 december 2006
---
Vijftien schedels in huis Indiase seriemoordenaar
NOIDA (India) - De Indiase politie heeft in het huis van een van kindermoord verdachte man vijftien schedels gevonden. De vrijdag gearresteerde man, een bediende, heeft de moord op zeker negen kinderen en vijf vrouwen bekend. Hij zei zijn slachtoffers te hebben verkracht en vervolgens onthoofd. De lichaamsdelen verborg hij op het achtererf of in een open riool voor het huis. Een zoekactie in het riool leverde zaterdag plastic tassen met lichaamsdelen, kleren en armbanden op.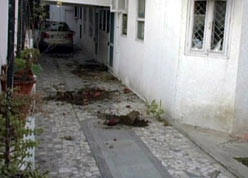 Bewoners van Noida, de woonplaats van de verdachte, zeggen dat de afgelopen jaren 38 kinderen uit de buurt rond het huis zijn verdwenen. De vondst van de schedels versterkt het vermoeden bij de politie dat de man meer moorden op zijn geweten heeft dan hij heeft bekend.
---
HOUSE OF HORROR
Shiv Pujan Jha CNN-IBN Updated Saturday , December 30, 2006 at 22:59
Noida (Uttar Pradesh): The man accused of raping and murdering children in Noida, near Delhi, has allegedly told police that he had a "weakness" and could not stop himself. Surinder Kohli alias Satish is the father of a young girl. He is accused of murdering children in bungalow D-5 in Noida's Sector 31. He was a domestic servant at the house and allegedly lured children with sweets.
"We asked him how could he murder children and he told us that it was his weakness and he could not stop himself," said Senior Superintendent of Police R K S Rathore.
Satish, a resident of Almora, Uttaranchal, has confessed to strangling the 15 children whose bodies have been found since Friday morning. Eight bodies have been identified, and police suspect that Satish may have targeted women too.
The bungalow's owner, businessman Mohinder Singh, is also under arrest. Police is probing the role of a woman called Neelam. A court on Saturday allowed UP police two-day custody of the two accused who will be taken to locations for clues to the murders.
The murders have become a political issue with Opposition parties demanding that the Central Bureau of Investigation (CBI) take over the probe. "Where ever you dig in Uttar Pradesh, you will find bodies. If the state government has any shame it must order a CBI probe," said Congress leader Salman Khurseed.
Chief Minister Mulayam Singh Yadav indicated that he would order a CBI probe if the UP police "could not manage".
Residents of Nithari village from where 38 children have gone missing over the past two years alleged that police didn't listen to their complaints. They gathered outside the bungalow and shouted slogans against the police who resorted to a mild lathicharge to disperse them.
(With Arunoday Mukharji in New Delhi)
Bron/Copyright:

Nickerie.Net / IBN

,30-12-2006


E-mail: info@nickerie.net
Copyright © 2006. All rights reserved.
Designed by Galactica's Graphics