Nickerie.Net, maandag 03 december 2007
---
Ook Nickerianen opgeschrikt door schokken van aarbeving bij Martinique
Geen Tsunami gevaar
Nickerie - De middagrust van duizenden Surinamers is op donderdagmiddag verstoord door een aardbeving. Het epicentrum hiervan lag bij het Caribische eiland Martinique en had een kracht van 7.4. De schokken zijn gevoeld in het oostelijke deel van het Craibisch gebied en het Noordwesten van Zuid Amerika.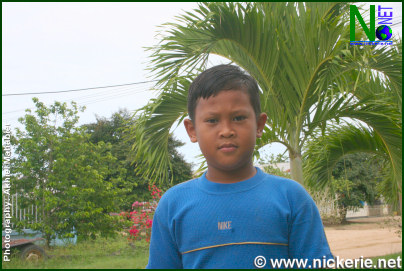 Arif uit van Pettenpolder
'Het leek alsof een dier mijn bed ging schudden' was de reactie van de jeugdige Arif uit van Pettenpolder. Een bezoeker van een winkel dacht dat de etalagekast onstabiel was geworden en probeer het overeind te houden door nog steviger tegenaan te drukken. Velen hebben ook een duizelig gevoel van de beving overgehouden. De beving heeft ongeveer een minuut geduurd omstreeks 16:00 uur lokale tijd.
Volgens het Tsunami Waarschuwingscentrum is er geen gevaar voor Tsunami.
---
Earthquake Details
Magnitude 7.4 - MARTINIQUE REGION, WINDWARD ISLANDS
2007 November 29 19:00:19 UTC
Magnitude
7.4
Date-Time

Thursday, November 29, 2007 at 19:00:19 UTC
Thursday, November 29, 2007 at 03:00:19 PM at epicenter

Time of Earthquake in other Time Zones
Location
14.951°N, 61.241°W
Depth
143.1 km (88.9 miles)
Region
MARTINIQUE REGION, WINDWARD ISLANDS
Distances

23 km (14 miles) NNW (332°) from Le Morne-Rouge, Saint-Pierre, Martinique
23 km (14 miles) NW (306°) from Le Lorrain, La Trinité, Martinique
24 km (15 miles) NNW (344°) from Saint-Pierre, Saint-Pierre, Martinique
42 km (26 miles) SSE (159°) from ROSEAU, Dominica
270 km (168 miles) NW (320°) from BRIDGETOWN, Barbados

Location Uncertainty
horizontal +/- 4.3 km (2.7 miles); depth +/- 6.6 km (4.1 miles)
Parameters
Nst=202, Nph=202, Dmin=268.1 km, Rmss=0.8 sec, Gp= 40°,
M-type=moment magnitude (Mw), Version=7
Source
Event ID
us2007kha5
This event has been reviewed by a seismologist.
---
To: U.S. and Canadian Atlantic, and Gulf of Mexico coastal regions
From: NOAA/NWS/West Coast and Alaska Tsunami Warning Center (Experimental Web Product)
Subject: Tsunami Information Statement #1 issued 11/29/2007 at 3:08PM AST

A strong earthquake has occurred, but a tsunami IS NOT expected along the coasts of Puerto Rico, the Virgin Islands, U.S. Atlantic and Gulf of Mexico states, and Eastern Canadian provinces. NO tsunami warning or watch is in effect for these areas.

Based on the depth of the earthquake within the earth, a widespread damaging tsunami IS NOT expected along the Puerto Rico, Virgin Islands, U.S. Atlantic, Eastern Canadian and Gulf of Mexico coasts. At coastal locations which have experienced strong ground shaking, local tsunamis are possible due to underwater landslides.

At 3:00 PM Atlantic Standard Time on November 29, an earthquake with preliminary magnitude 7.3 occurred near the Windward Islands, Caribbean Sea. (Refer to the United States Geological Survey for official earthquake parameters.)

The Pacific Tsunami Warning Center in Ewa Beach, Hawaii will issue messages for areas in the Caribbean outside Puerto Rico and the Virgin Islands.

This will be the only statement issued for this event by the West Coast/Alaska Tsunami Warning Center unless conditions warrant. See the WCATWC web site for basic tsunami information, safety rules, and a tsunami travel time map and table. (NOTE: Travel time maps and tables indicate forecasted times only, not that a wave was generated.)
Bron/Copyright:

Nickerie.Net

29-11-2007


E-mail: info@nickerie.net
Copyright © 2007. All rights reserved.
Designed by Galactica's Graphics