Nickerie.Net, woensdag 20 februari 2008
---
Opnieuw bloedbad in Guyana: 12 doden
Georgetown - In een dorp in Guyana hebben onbekenden een bloedbad aangericht, waarbij negen burgers en drie politieagenten werden gedood. De schutters kwamen met een speedboot aan over de rivier de Essequibo, en overvielen een politiepost in Bartica, in het zuidwesten van Guyana. Ze zouden het wapenarsenaal van de politie hebben geplunderd, en zijn daarna verdwenen. Vorige maand was in een ander dorpje in het buurland van Suriname ook al een slachtpartij. Daarbij vielen elf doden, onder wie vijf kinderen. Dát bloedbad wordt door de politie toegeschreven aan de bende van Rondell Rawlins, de meest gezochte crimineel van Guyana. (RNW)
---
12 PERSONS SHOT DEAD IN BARTICA (Guyana)
Five Policemen, seven civilians killed by marauding gunmen - several others hospitalized
Heavily armed gunmen wrecked havoc in Bartica last night, killing five policemen and seven civilians.
Unconfirmed reports indicated that a gang of heavily armed gunmen stormed the Bartica Police station shortly before midnight, killing five Policemen. The gunmen then went on a wild shooting spree along First Avenue, Bartica killing at least seven civilians. Several other Barticians are reportedly hospitalized at the Bartica hospital.
The joint services have since responded - using air, ground and river support. Meanwhile, the reading of the 2008 Budget in the National Assembly, scheduled for today, has been deferred to a later date, the Finance Ministry announced this morning.
(Guyana Chronicles)
---
Update 19-02-2008
'How much more must we endure?' - grieving relatives ask By Iana Seales and Heppilena Ferguson Tuesday, February 19th 2008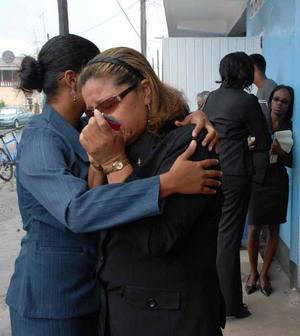 Minister within the Ministry of Education Dr Desrey Fox, is comforted outside the funeral parlour yesterday after viewing the body of Police Constable Ron Osbourne, who was said to be close to her. (Photo by Clairmonte Marcus)
Pandemonium broke out at the Lyken Funeral Home at the strike of noon yesterday after the bodies of 11 of the Bartica 12 arrived to the wailing of relatives, who had waited for close to two hours for them to arrive.
Even as they waited, having received word that their loved ones might have been shot and killed by heavily armed gunmen at Bartica on Sunday evening, some hoped that it was a mistake. However, after the bodies arrived, some were left speechless while others wailed uncontrollably and asked themselves, why.
As the two hearses bearing the bodies banked the turn and relatives spotted them, uneasiness rose and the crowd quickly converged on the gates of the parlour.
The crowd also caused traffic congestion as the drivers of passing vehicles slowed down to take a glance at the commotion in front of the funeral home's gates.
As the bodies were being passed out into the area persons could be heard counting out load and many were overheard saying, "something has got to be done, we can't continue like this in this country".
Relatives of Edwin Gilkes, 47, of 20 Fifth Avenue Bartica, the security guard who was on duty at the Banks DIH outlet when the gunmen struck, sobbed quietly in a vehicle from which John King's "How Many More?" emanated. The words of the song caught on and persons sang along as they passed in cars. King's song became popular in Guyana during the 2002 crime wave.
Gilkes's nieces and other relatives recollected their good times together and said how extremely friendly he had been with persons in the community. His sister Agnes Gilkes, who was visibly shaken but tried her utmost to keep it together, told Stabroek News that he was her only brother.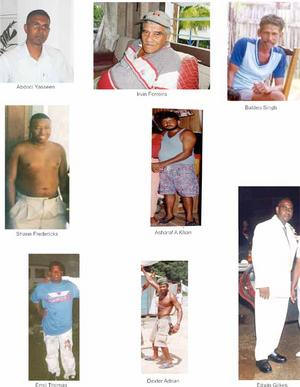 Police Constable Ron Osborne, 20, originally of Kamarang had only been in the force for two years. His brother Troyann Willie, also a policeman, but based at the Madewini Police Station, said he was in Georgetown when he learnt that his brother was killed. He said it was about 10 pm when he heard that gunmen had attacked the police station and when he made telephone contact he heard the news.
He said he was told that the men shot his brother once and then he tried to escape, but was pursued him and shot dead by the time he reached the gate of police station. Willie said he last spoke to his brother almost a week ago.
Osborne was the second of three children. His mother currently lives in the interior and is expected in Georgetown shortly.
Minister within the Ministry of Education Dr Desrey Fox turned up at the parlour after the bodies had arrived to see Osbourne. Visibly shaken, she ventured inside and later emerged in tears. Osbourne was reportedly close to the minister. She stood outside the parlour crying in the arms of another female who had accompanied here for about five minutes before moving off to her vehicle. When the media made attempts to speak with Fox they were told that she was in no condition to speak.
Baldeo Singh, 54, of Second Street Montrose, East Coast Demerara was onboard the vessel Davi 2, at the Transport and Harbours stelling, when rapid gunfire rang out. This newspaper understands that Singh and others were placed to lie flat on the deck and were shot several times to their heads.
Singh's sister Hilmattie Boodhoo said she last saw her brother on Tuesday last. Prior to identifying the man's body the woman was not sure if her brother had indeed died, but after she learnt that the persons on board the boat were attacked, she figured that her brother was injured.
Singh's nephew said he learnt of the incident through a notice, which was being scrolled on the state owned NCN television station at the end of the 20/20 cricket match between Guyana and Antigua.
Deonarine Singh, whose address was given as Wakenaam, Essequibo, was the captain of a boat, possibly the Davi 2, operating the Parika/Bartica route and was killed at the Transport and Harbours stelling, after the gunmen abandoned the police vehicle.
His brother, who only described himself as "Brama" said he last saw his brother four days ago and learnt of his demise through a family friend. He said his brother's face was covered in blood, but he didn't examine the body for any visible gunshot wounds.
Abdool Yassin was also shot dead at the stelling. His aunt Bibi Mohammed and another female relative were very upset yesterday at the funeral home, as they felt the staff were deliberately delaying them from viewing his body.
Mohammed later told reporters that Yassin had only graduated from the University of Guyana last year and was a promising youth. "How much more we have to endure?" she cried. "We just gone through trauma, how much more?"
The woman said she and the other relative had become aggravated because they were frustrated.
Dexter Adrian, 36, was cut down while working as a taxi-driver in the Bartica area. Yesterday, his mother, Joan Rowe was struggling to stay calm after arriving at the parlour in the company of several relatives, all visibly anguished. Rowe later collapsed. Later in the day she described her son as a hard-working young man who had been living at Bartica for many years.
Adrian, who fathered two children, worked in the interior for a number of years before purchasing a car about a year ago. According to his mother, he visited the city often and would spend time with her at her Tucville home. She said Adrian was jovial and knew how to make people laugh. The woman said the people who murdered Adrian, killed a good man.
"God why Shaney? Oh why Shaney?" were the words repeatedly uttered by Indira Fredericks, wife of policeman Shane Fredericks. She arrived at the parlour very early and sat crying uncontrollably for nearly two hours. Since she was unable to speak, her sister related that Fredericks spoke with his wife shortly before he was killed. Their telephone conversation was cut short when his calling card ran out, but he had promised to call her right back. She waited for the call but it never came. The next message the family received was that Fredericks had been killed.
Fredericks, 34, had joined the force at age 17 and spent most of his years working at Bartica. He was a popular policeman in the area and well liked, according to the family. Fredericks and his wife had been married for over 15 years and the union produced two children. He was described as a loving father, husband, brother and friend. His wife struggled all morning to remain calm but broke down every few minutes.
Security guard Irving Ferreira, 72, was killed at the home of miner Chunilall Babulall of First Avenue, Bartica, where he was employed. His daughter, FIFA referee and physical trainer Dianne Ferreira-James told Stabroek News that her father did not deserve to die the way he did. "I only hope that these criminals are brought to justice," she said. Ferreira-James said she spoke with her father every night and Sunday night was no different. It was only recently that she returned to Guyana with a serious injury and was hospitalised. She said her father was a rock in the family and explained that they are taking his death really hard.
Ashraf Ally Khan, 45, of Middlesex, Essequibo Coast, was on his weekly routine with his crewmembers on a boat belonging to Banks DIH Ltd, according to relatives.
His grieving wife told Stabroek News at her Middlesex home that they were still unclear as to what exactly happened. However, she said she had been told that her husband's body bore gunshot wounds to the head.
Khan has left to mourn his wife, an 18-year-old daughter and two sons aged 14 and 16 years.
Sailor Errol Thomas, 41, had been working on a boat, likely the Davi 2, when the men attacked.
The men reportedly put Thomas, his captain and another sailor to lie face down before shooting them. Shot in the head and through one of his shoulders, Thomas was alive to give a statement to the police, relatives said. He later succumbed at the Georgetown Hospital.
The family heard the news at around 6.30 am yesterday.
When this newspaper visited the 810 Tuschen Housing Scheme, East Bank Essequibo home, Thomas's wife, Nafeeza Khan said her husband had called his daughter around 8.50 pm to say that he was watching the cricket match between Guyana and Antigua. She had last seen him on Saturday morning and he was due to go home yesterday.
He was the sole breadwinner of the family and sought to spend every other weekend at home with his family. According to the wife, officials of the government visited the home earlier in the day and promised assistance to the family in their time of tragedy.
Family members of Thomas said that the man was very quiet and never had any issue with anyone. He leaves to mourn two daughters aged 13 and six years old.
Meanwhile, the relatives of Lance Corporal 18632 Zaheer Zakir, one of the murdered policemen, refused to speak to the media on the incident. Zakir resided at Tuschen, East Bank Essequibo. (Additional reporting by Dianne Gonsalves and Johann Earle)
---
IN AFTERMATH OF BARTICA BLOODBATH DECENT PEOPLE vs. BAND OF BANDITS
This is not about politics, religion or race; this is about decent people of this country fighting a band of bandits' – President Bharrat Jagdeo tells Barticians
"THIS is not about politics, religion or race; this is about decent people of this country fighting a band of bandits. All the decent people of this country have to give support to the Joint Services." This was the sentiment expressed by President Bharrat Jagdeo to residents of Bartica during a meeting yesterday at the New Modern Hotel, on the brutal terror attack on their community.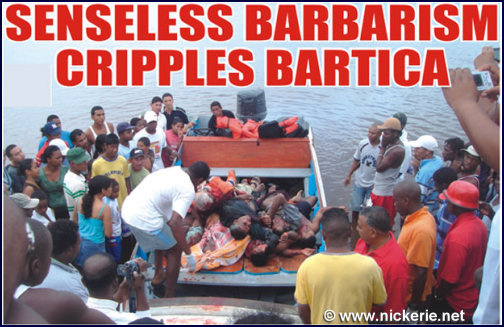 Aanvoer Bartica doden
President Jagdeo returned home after cancelling meetings in New York, and after being briefed about the situation at Bartica, he immediately travelled to the mining town, where he was met by the Chairman of Region Seven Holbert Knights, and several businessmen and other regional officials.President Jagdeo then visited the Bartica police station - the first building that reportedly came under attack during the tragic incident Sunday night that left 12 persons dead and several others injured.
Mr. Jagdeo also visited the businesses and homes of persons who were killed in the assault. A special meeting with representatives from the community was convened at the New Modern Hotel where residents were given the opportunity to express their views.
President Jagdeo told residents he was out of the country "when this practically unbearable situation occurred" but noted that he was in touch with a number of persons in Guyana even as the attack was taking place, trying to find out what was happening.
The President said he immediately cut short his stay and booked the first flight home.
"This community has been a peaceful community for a very long time in our history that has never experienced anything close to this. Therefore, people are traumatized and I can understand it.""I saw the same fear a few weeks ago on the East Coast Demerara (after the Lusignan massacre). The communities were fearful since they did not know where else these people would strike. That fear still exists on the East Coast," Mr. Jagdeo told the residents of Bartica.
"From what I was told, there seemed to have been a dual motive: robbery and to kill and create terror. There is no other way to justify the killing of innocent people," he lamented. "We know it is the same group that did it in Lusignan, only a psychopath can do this, someone who has no conscience, feeling and a group who don't care about consequences."According to the President, "the only way to end this is to go after the bandits and find them since you can't reason with people who commit these types of crimes".
He said the Joint Services are going to work day after day until they find these criminals.The army is clearing the backlands of Buxton where they were hiding out so they do not have that safe haven anymore.
Two special Joint Services units have been established and given the task to find those responsible for these killings. Mr. Jagdeo told residents that the national security plan has been passed by Parliament. The 2008 Budget has set aside about US$1M to upgrade the capability of the Security Forces to purchase helicopters and a number of other equipment.
"This is a small group of persons who will strike and move, this is not widespread, but because it is a small group it is easy for them to move around and do this anywhere. As President, I can only give the resources and encouragement to the Security Forces. They (the Joint Services) are the people who have to go after the criminals and in this regard they have my full support," he said.
With reference to the many people including leaders of political parties commenting on what should be done, the President said he has told them "tell us what they feel we were not doing".
However, there were no suggestions being made, only criticisms.
(Guyana Chronicles, 21 feb 2008)
Bron/Copyright:

Nickerie.Net / RNW / Stabroek News / Guyana Chronicles

18/02/2008


E-mail: info@nickerie.net
Copyright © 2008. All rights reserved.
Designed by Galactica's Graphics