Nickerie.Net, donderdag 10 juli 2008
---
Guyana voert aanstaande zaterdag eerste niertransplantatie uit
Georgetown - Aanstaande zaterdag zal in het buurland Guyana de eerste nier transplantatie plaatsvinden in het Guyana Public Hospital Corporation. Dit is met trots naar voren gebracht door gezondheids minister Dr.Leslie Ramsammy. Tijdens een persconferentie heeft de minister gezegd dat het medisch team afkomstig is uit New York.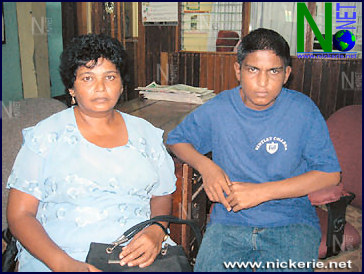 Munesh samen met zijn nierdonerende moeder Leelkumarie Mangal
De patiënt die uitgekozen is voor het doen van de nier transplantatie, is een jongen uit het stadje Lusignan, die een nier van zijn moeder zal ontvangen. De gehele operatie staat onderleiding van de in India geboren arts, Rahul Jindal, die bij vele beroemde ziekenhuizen in de Verenigde Staten in de afgelopen jaren veel werk heeft verricht. Dr. Jindal, zal verder ondersteund worden door een team van Amerikaanse artsen en verpleegkundigen waarvan een deel ook van oorsprong afkomstig uit India.
In januari dit jaar had de moeder van Munesh al een oproep gedaan via de media om financiële steun voor het helpen bekostigen van de nierdialyse. Ze was toen al bereid om een van haar nieren aan haar zoon te doneren - zodat hij van zijn lijden verlost kon worden. De operatie zou dan plaatsvinden in India. Dit zou hun ongeveer US$ 36.000 gaan kosten, een bedrag ver buiten het vermogen van mevrouw Mangal - die als groente verkoopster met een zeer marginaal inkomen moet rondkomen. Gelukkig hoeft ze nu de lange reis niet meer te maken en maar hopen dat de operatie slaagt.
---
Oorspronkelijk bericht
Major medical procedure available to Guyanese
Guyana is just hours away from glory when it would have carried out its first Kidney Transplant Surgery. For some time now, our Health Sector has been gaining remarkable success in performing the more advanced surgical procedures. This breaking of new ground in the Health sector opens the way for patients with certain health conditions to be treated locally instead of having to fork out large sums to go abroad for such ailments as was the case in the past.
Come Saturday, history will be in the making when for the first time ever, a US medical team will carry out Kidney Transplant Surgery on 18-year-old Munesh Mangal at the Georgetown Public Hospital Corporation Complex.
Kidney Transplant is a very expensive undertaking, and Saturday's novel procedure will bring renewed hope to Guyanese patients with similar condition.
We recall that in May this year Health Minister, Dr Leslie Ramsammy, broke the news to all Guyana that on July 12, 2008, the country will have its first kidney transplant done at the Georgetown Public Hospital.
It should be noted that Guyana has a dialysis centre but dialysis is only a stop gap and does not work for some people and the answer is transplant.
Late last year Guyana wormed itself in the news when the first successful Heart Transplant was done at the Caribbean Heart Institute at the Georgetown Public Hospital Corporation. This was followed by three others earlier this year and brought a new sense of purpose for heart patients, who, prior to the establishment of the Caribbean Heart Institute, also had to seek medical surgery abroad.
Saturday's surgery will take almost the entire day, for it will entail removal of the donor's kidney first before being transplanted to the patient and according to Indian-born team leader Dr Rahul Jindal:
"This is a two-phase complex procedure whereby the mother's kidney is removed first. This takes about three hours. Then it is cleaned, which includes flushing and inserted into the recipient. It is a staggering operation that will take the entire day.
And according to team member, Dr. Edward Falta: "Transplant surgeries is one of the miracles of modern science, it is like a patient getting out of a wheelchair and beginning to walk immediately. The same can be said for kidney transplantation. Someone who has been sick for a very long time can literally get up and go in a matter of weeks. It brings a lot of joy to witness this".
It is worthy to note that the team of doctors who will be heading to Guyana this weekend for the historic occasion are senior Transplant Surgeons of the Walter Reed Army Medical centre, Dr Rahul Jindal and Dr Edward Falto; Dr Arthur Womble, attached to the Athens-Limestone Hospital, Athens, Alabama; Dr. Melanie Guerrero and Laura Owen.
We are certain that the Kidney Transplant, the newest of medical procedures to be undertaken in Guyana will be highly successful and will serve to bring joy and hope to those members of our society who are suffering from kidney ailments. It will be just a matter of time before they also would also be relieved from their sufferings.
---
Friday, January 4, 2008
Eerdere noodkreet blijkt gelukkig effect te hebben gehad
Mom Pleads for Kidney Transplant to Save Son's Life
This article was published in Guyana Chronicle about a young man with "end stage renal failure' and his mother's plea for help. The single mother is giving her kidney to her son, but needs monetary help to pay for his kidney transplant. This story struck a personal chord with me because my grandmother passed a way more than a year ago from complications related to kidney failure and she underwent painful dialysis prior to her death. Believe me, it's a hellish experience for a family to go through. Fortunately, she lived a long life, but this young man won't if he doesn't get help soon. I hope there's a doctor out there reading this story who can sponsor this surgery (Michel Outridge, Society Noir).
Leelkumarie Mangal, 41, of Lot 119 Lusignan Pasture, East Coast Demerara, is appealing to the business community and the general public to help her son get a kidney transplant in India and dialysis treatment here. She said her son, Munesh Mangal, 18, was diagnosed with 'end stage renal failure' in August last year, after he became ill and was a patient for two months at Georgetown Public Hospital Corporation (GPHC).
The woman told the Guyana Chronicle yesterday that he currently receives haemodialysis treatment at 5G Dialysis Centre, Lots 235-236 Baramita and Aubrey Barker Streets, South Ruimveldt, Georgetown, at a cost of G$100,000 weekly.
I cannot afford to meet that amount so often and this is why I am asking for help to raise the funds," she appealed.
Mangal said the patient's health is deteriorating rapidly and he is now blind in both eyes and totally dependent on her as he is unable to do anything for himself.
It is very difficult for him to cope and is often overwhelmed with pain and the burden of long-term dialysis treatment would be impossible for her to meet as a single parent, his mother said.
She said she is willing to donate one of her kidneys for the operation in India but has to raise US$36,000 for expenses.
Munesh said he was forced to leave the private school he attended when he took sick suddenly.
His mother, a vendor of green vegetables, said she approached the Ministry of Health and was assisted with the payment for 10 dialysis treatments which he has already received.
Bron/Copyright:

Nickerie.Net / Guyana Chronicles / Danny Jibodh

09-07-2008


E-mail: info@nickerie.net
Copyright © 2008. All rights reserved.
Designed by Galactica's Graphics