Nickerie.Net, dinsdag 28 oktober 2008
---
Note: In tegenstelling tot eerdere berichten hebben 6 opvarenden de ramp niet overleeft. Volgens de Guyanese media waren er 8 mensen aan boord. Twee opvarenden hebben de ramp overleeft.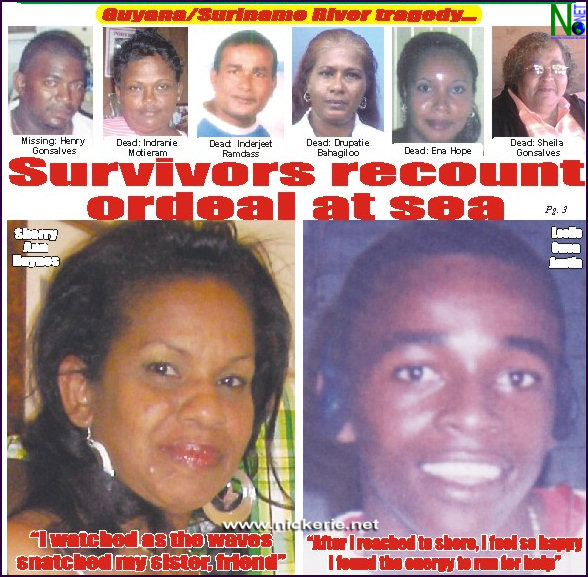 ---
Drama op de back track route: boot omgekanteld, 6 doden
Nickerie - De back track route heeft opnieuw slachtoffers geëist. Vrijdagmiddag tegen half zes is in de Corantijnrivier de boot van Roy Ramdass omgekanteld. De boot, die vanuit Nickerie was vertrokken, had aanvankelijk tien mensen aan boord, maar twee passagiers konden onderweg overstappen naar een andere boot, nadat gebleken was dat de boot te zwaar was beladen. Volgens de motorist Leslie Austin, die als eerste overlevende aan land kwam, raakte de propeller verstrengeld aan een vissersnet waardoor de boot kantelde. De motorist kon zichzelf in redding brengen en ligt thans in het Skeldon Hospital voor verdere behandeling. Tot maandag zijn zes lijken aangespoeld aan de Guyanese oever van de Corantijnrivier. Alle slachtoffers zijn van Guyanese origine. Vorig jaar februari waren ook al twee vrouwen verdronken op de back track route.
Verdronken:
1. Roy Indarjeet Ramdass, 47 (booteigenaar)
2. Sheila Gonsalves, 64
3. Indranie 'Birdlady' Motiram, 49, uit Crabwood Creek;
4. Ena Hope, 34, van Number 78 Village, Corriverton;
5. Drupatie Bahagiloo, bekend als Nalini Ganpat, 45, uit Hampshire, Corentyne
6. Henry Gonsalves uit New Amsterdam;
Overlevenden:
1. Leslie 'Heads' Austin 25, van Number 78 Village. Number 63. Na ongeveer drie uur zwemmen wist hij aan land te komen. Hij heeft pas na het ongeluk zijn reddingsvest aangedaan. Volgens de motorist hadden op drie na alle passagiers een reddingsvest aan.
2. Sherry Haynes (verpleegkundighe uit New York)
Volgens de laatste berichten hebben nog 2 andere passagiers deze ramp overleeft. Volgens de motorist waren er 8 mensen aan boord.
* * *
Team Nickerie.Net expresses her sympathy to all friends and relatives of the victims on both sides of the Corantijn River.
***
---
Update, zondag 26 oktober 2008
Five drown, two missing in Corentyne River mishap
Shabna Ullah
One survivor swam ashore
Five people drowned, two are missing and one miraculously made it to the shore, after a river mishap that occurred just after 5.30 pm on Friday, involving a speedboat that plies the Guyana/Suriname "backtrack" route; the boat was returning from Suriname.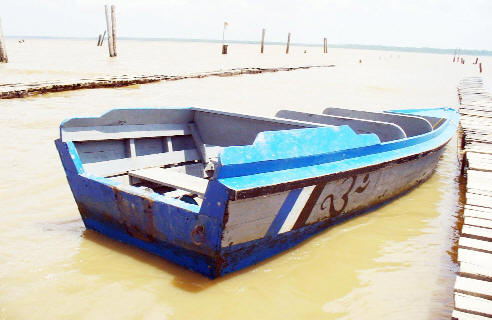 The ill-fated Sevi 2 at the Roy Ramdass Landing yesterday after it was recovered.
Owner of the boat, Roy Ramdass, 47, who was captaining it, was among the dead whose bodies were washed ashore at various points on the Corentyne yesterday.
The other persons who were on board the ill-fated Sevi 2 were Sheila Gonsalves, 64 and her sister Sherry Haynes, in her 30s, both New York-based Berbicians; their nephew, Henry Gonsalves of New Amsterdam; Indranie 'Birdlady' Motiram, 49, of Crabwood Creek; Ena Hope, 34, of Number 78 Village, Corriverton; Drupatie Bahagiloo called Nalini Ganpat, 45, of Hampshire, Corentyne and Leslie 'Heads' Austin, 25, of Number 78 Village. Austin managed to swim to shore after efforts he made to save the others failed. He reached the Number 63 Beach foreshore safely around 8 pm on Friday.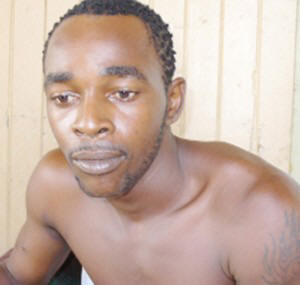 Survivor: Leslie Austin
Up to press time yesterday, the bodies of Ramdass, Hope, Sheila Gonsalves, Motiram and another female had been recovered. Henry Gonsalves and another woman were still missing and feared drowned. Many persons turned up at the Skeldon Hospital Mortuary yesterday to get a glimpse of the bodies as they were brought in.
Reports are that the propeller of the boat became entangled with fishing seines and this caused the boat to capsize. Though the vessel was equipped with enough lifejackets for everyone, Austin, Motiram and Ramdass were not wearing any. Austin told this newspaper that he only put on his lifejacket after the accident occurred.
This newspaper understands that the boat left Suriname with 10 passengers but a boat from 'Aunty Landing', which was empty, stopped and collected two of the passengers after the captain realized that the Sevi 2 was carrying too many people. Stabroek News learnt that the captain also asked if more persons would like to join his boat, but the passengers said no and he continued his journey.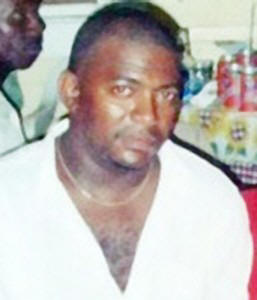 Henry Gonsalves
Francis Gonsalves of Holland and formerly of Number 78 Village, whose sisters Sheila, a pensioner and Sherry Haynes, a nurse of Brooklyn, New York were on the boat, said they all came to Guyana to scatter their brother, Hector Gonsalves's ashes.
He said Hector passed away on October 6, and they travelled to Guyana last Sunday to fulfil his wishes of scattering his ashes in all the rivers in Guyana.
They had already done so and his sisters, along with Ena Hope, a mother of two of the Reno Hotel where the siblings stayed and his nephew, Henry decided to travel to Suriname on Friday morning to visit relatives.
Yesterday, Francis was trying his best to cope with the situation. He commented that it was already hard dealing with the passing of one member of his family and now he has to deal with three more.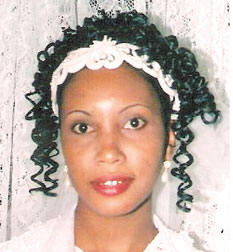 Ena Hope
Sheila, a pensioner might be buried in Berbice, while Haynes's husband, Keith Haynes and her daughter, 18-year-old Jennifer are expected in the country tomorrow.
Ramdass's wife, Meena, 44, told Stabroek News that her husband, who took over the business from his parents and had been doing it for over 15 years, called her just before he left Suriname. She said that around 7 pm after the boat did not arrive she became worried and sent out her sons, Ryan and Ravi and their workers in two boats to conduct a search.
She said the boats came in for fuel three times and each time she hoped that they would come with good news but her worst fears were confirmed when the empty boat returned at around 9 am yesterday.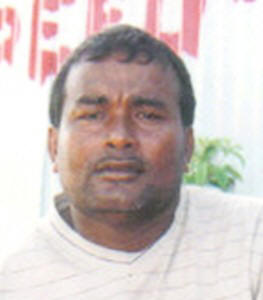 Roy Ramdass
When this newspaper visited the landing yesterday morning, a large crowd had gathered to offer their sympathy and support while Ravi and his workers were washing the engine from the ill-fated boat.
Over at Motiram's house at Crabwood Creek, relatives were busy making a tent to prepare for a wake. Her daughter, Joy confirmed that her mother, who worked with a Surinamese businessman involved in the wildlife trade, never liked to wear a lifejacket.
She said her mother travelled to Suriname about five days per week via the "backtrack" route and normally returned the same day. When her wildlife worked "slowed up," Motiram traded flower plants and frozen chicken from that country, Joy said.
She recounted that around 8 pm on Friday after their mother had not returned home, her siblings checked with the landing and learnt that the boat was missing and that she was among the persons who were feared dead. A farmer tending his cows discovered her body around 9.30 am at the Springlands shore.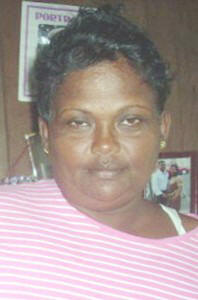 Indranie Motiram
Henry's mother, Louis Benjamin of Corriverton said her son who was attached to the Berbice Bridge project as an electrician had been spending time with her since last Tuesday. He left from her home to join the others on the trip. He leaves to mourn four children.
Last year February, two women died in a similar mishap. Hansrani known as 'Buck' of Annandale, East Coast Demerara and Cheryl Peters 335 Mocha Arcadia, East Bank Demerara perished after the boat in which they were travelling 'backtrack' from Corriverton to Suriname capsized in the Corentyne River.
That boat, which had belonged to a Surinamese known only as "Amit" had left 'Aunty's Boat Landing' at Number 78 Village, Corriverton with nine passengers on board heading for Nickerie, Suriname.
Just as with the Sevi 2, the boat had become entangled with a fishing seine and capsized. In the February incident, none of the passengers had been wearing lifejackets. However, seven of them had managed to hang onto the boat and other articles until they were rescued by other boats.
Hansranie's daughter had related that her mother had held on to the boat, but had drowned after someone attempting to salvage cargo had pulled a black bag over her head.
Peters, who was said to have been a strong swimmer, might have been attempting to swim to shore, when she encountered strong currents. Her body was discovered several days later, floating near Number 74 Village.
Following that incident, Minister of Home Affairs Clement Rohee had urged Guyanese travelling to Suriname to use the legal Corentyne crossing. However, there have been no moves to close down the illegal operators.
---
Maandag, 27 October 2008 (Stabroek News):
'I don't think I did enough', survivor says
by Shabna Ullah
Survivor Leslie Austin known as 'Heads', who worked periodically with Roy Ramdass as a sailor and had been on the job for the past two months, told Stabroek News that the water had been extremely rough. After he made it safely to shore, he was treated at the Skeldon Hospital for the burns he sustained about his body from the gasoline that was spilt in the water.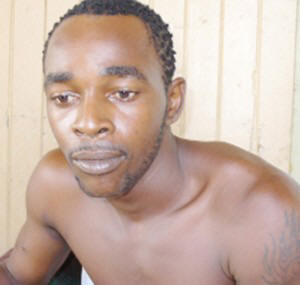 Survivor: Leslie Austin
When Austin was complimented for his bravery in swimming safely to shore he responded: "Thank you very much but I do not think I did enough, because I was not able to save the others. They asked me to get help for them, but I did not get to do it…" He said they would normally see the "pins" from the fishing seines floating in the water but on Friday the pins were not visible and a seine became snagged in the boat's propeller.
"When it [the seine] hook, the boat give a pull down and started to take in water and I decided to jump out of the boat and try to loose it," he said. A knife was in a tools' bucket but he "could not reach it fast enough; the seine just pulled down the boat…"
He said he grabbed his lifejacket and put it on while he was in the water and gave Ramdass a gasoline jar to hold onto. But the jar was uncovered and gasoline started to spill out.
Austin said he then grabbed Indranie Motiram, another woman and Henry Gonsalves and tried to get them to hold onto the bow of the boat. He said everyone was panicking and screaming, while he tried to keep his calm. But one woman, "was shouting and screaming and she was confusing me…"
Austin said a boat was passing and they tried to hail it but the noise from the engine made it impossible for the occupants to hear. He said that at that point, Henry Gonsalves begged him to swim to shore to bring back help for them.
He said he started to leave, but turned back as he was not sure what would happen to them if he left them there alone, but when they continued to scream, he decided to be brave and struck out for shore.
The man averaged that he swam for about two and a half miles, passing three channels and sand banks, praying all the way. According to him, when he hit the first sand bank he felt he had reached the shore and started to walk, but suddenly found himself deep in water again.
Exhausted, and panting for breath, Austin said, he even crawled in the muddy areas close to the sand banks. At one stage, he saw a boat flashing its light (apparently from the search team) and he called out but there was no response.
When he finally reached shore, it was at Number 63 Beach. Austin said he was so overjoyed, he somehow found the energy to run. Along his way to the public road, he met two persons and asked them to help him make a phone call but they responded that they had forgotten their phones.
They told him to go to the mandir nearby for assistance but he ran past the mandir until he reached the public road. Unable to go any further, he threw himself down in front of a resident's home and lay there groaning for help.
The owner heard the dogs barking and went out to check and found Austin. Once he learnt what had happened, he contacted the boat owners.
The owner of a car, who was summoned to take Austin to Corriverton, told this newspaper that he took the man to the landing first where they contacted the police and the coast guard. After that, he was taken to the hospital.
The coast guard also contacted the Berbice Anti-Smuggling Squad, but it was unable to go out in the water because it "didn't have sea-worthy vessel."
---
Other 'back track' survivor surfaces - one passenger still missing
By Sharief Khan and Jeune Bailey Vankeric (Guyana Chronicles)
ANOTHER survivor from the 'back track' river tragedy miraculously surfaced on the Corentyne shore yesterday morning but a nephew who was with her on the ill-fated boat remained missing up to last night, police said. Superintendent Simon McBean, Deputy Police Commander in the region said the partly decomposed body of Indarjeet Ramdass, called Roy, the captain and owner of the craft, was found yesterday at about 06:30h on the shore at No. 69 Village.
Sherry Ann Campain-Haynes
Ramdass was the fifth person confirmed dead from the eight on board his wooden vessel which capsized late Friday afternoon in the border Corentyne River between Guyana and Suriname, McBean said.
Sherry Ann Campain-Haynes, who was on board, made it to the shore of No. 57 Village early yesterday morning and was soon back home at No. 78 Village after managing to survive the ordeal beached on a sand bank still wearing her life jacket.
McBean said she told police she and Henry Gonsalves found themselves on the sand bank where they stayed together but when she woke up yesterday morning Gonsalves was not there.
She said she went ashore after seeing animals and houses in the distance and residents helped her get back home, McBean related.
He said Gonsalves was missing up to last night and autopsies on the five bodies found showed they died from asphyxiation and drowning.
Another survivor, Leslie Owen Austin, 24, who worked with Ramdass, told police he survived a battle against a turning tide and turbulent waves and made it to shore wearing a life jacket and clinging to a five-gallon fuel container.
He said he last saw the four whose bodies were found Saturday holding hands together while wearing life jackets designed to carry only persons weighing 70 pounds.
Austin said he promised to return with help for them after reaching shore and he went to great lengths to keep that promise.
But he said the waves were turbulent and he found it difficult to swim against the turning tide.
Austin said he drifted with the tide and reached the shore at No. 62 Village about three hours after the boat capsized around 17:00hrs Friday.
He was treated for dehydration at the Skeldon Hospital and left there later that night after being given two bottles of saline.
Despite his narrow escape, Austin returned to the boat service run by Ramdass at No. 78 Village where the boat was headed when tragedy struck and was there up to late Saturday helping in the search for the missing persons.
Austin, of No. 78 Village said he had travelled across the Corentyne River many times before and this was the first time he was in such a disaster.
He said the husband of Eva Davenport Hope had hired the boat to ferry his wife, her overseas-based guest Sheila Gonsalves, Campain-Haynes and Henry Gonsalves from Suriname to No. 78 where the Hopes run the Reno Hotel and Disco.
Sheila Gonsalves had brought the ashes of a brother who died in the U.S. to be scattered in the main rivers here.
Austin said after the group Ramdass was hired to pick up failed to show at Nickerie in Suriname, he began taking in passengers he knew for the trip back home.
He recalled that Hope and the others showed up during that time and along with eight other passengers headed back across the river.
Austin said the captain of another boat crossing the river warned Ramdass that his vessel was overcrowded and offered to take four passengers, but he was given two.
He said that shortly after, the propeller of the boat's engine became entangled with a fishing seine strung in the river, Ramdass lost control and the wooden vessel capsized.
The boat that capsized was among dozens on daily illegal runs ferrying passengers and goods across the river by-passing customs and immigration outposts.
---
Saved by a five-gallon plastic bucket
"It was when I saw my brother and hugged him that I realized that I was very much alive. I had survived" – Sherry Campain-Haynes
By Jeune Bailey Van-keric
IT'S a back from the dead tale for Sherry Campain-Haynes who yesterday said she is returning to Brooklyn, New York carrying a five-gallon plastic bucket which helped her survive the late Friday 'back track' tragedy on the border Corentyne River between Suriname and Guyana.
Red-eyed and blistered about the body from the river ordeal and safe with her brother and other close relatives at the Reno Hotel and Disco, No. 78 Village, Corriverton, she said she arrived there yesterday to find them already preparing plans for her cremation.
Sherry, 40, a health worker in Brooklyn, said they presumed she had died with her older sister Sheila Gonsalves, 64, whose body was among the four found Saturday at different points along the Corentyne foreshore.
In a highly emotional scene at the hotel yesterday, she related that it was only when she saw her brother Kenneth Gonsalves, and embraced him, that she realized she was very much alive.
It was like emerging from a nightmare.
She said Kenneth, who had travelled with her and Sheila to scatter the ashes of another brother who died in the U.S. in the mouths of the main rivers in Guyana, had commenced preparations for their cremation.
He had already bought several yards of cotton to wrap the bodies of his sisters for their cremation.
However, Francis, as he is fondly called in the family, told Sherry he has a keepsake which should be kept safely -- her burial shroud.
Sherry, who has a teenaged daughter, told the Guyana Chronicle that Ena Davenport Hope, her friend of many years, had Friday telephoned her husband Rolden Hope from Nickerie, instructing him to send a chartered boat to pick them up at the port on the Suriname side of the river. Sheila and her nephew Henry Gonsalves were with them, she recalled.
She said they had not completed their shopping as Ena wanted to buy food items for her two daughters Rowlene and Tiara.
They arrived at the Nickerie landing where the boat owner Indarjeet Ramdass told them that they were an hour late, she recalled.
"We entered the boat which had two men with iguanas, seated at the front, in addition to the four other persons. It was about ten of us", she said.
According to her Leslie Owen Austin, who also survived the ordeal, was the captain of the boat when the journey to No. 78 began.
But during the trip, the boat engine was sputtering and it did not seem right, she said.
The captain of another boat with one passenger on the crossing came by and indicated, by the use of his fingers, that he needed two more passengers, Sherry said.
The two iguana catchers, she said, left their boat for the other which sped away.
She said Austin continued to captain the boat but after a while Ramdass took over.
The waves were rough and after tossing for a while, water began to pour into the boat from the rear end and Ramdass ordered them to jump overboard, she said.
She recalled that one of the other women in the boat appealed to Ramdass "Oh boy help me! Help me!"
She said she, Ena and her sister Sheila held on to a five-gallon plastic bucket and began drifting with the tide.
But after about 10 minutes her older sister said "Sherry, I am taking in water."
"I told her 'Sheila you got to breathe', but when I looked at her, the life jacket was not zipped up."
With tears in her eyes, Sherry said "I looked at my sister and I noticed that she was going down, and at that moment she just said, 'Sherry, I am going down…'
"I then turned to Ena and said it's just us now; let's be focused. I urged her to focus on her two daughters…eight and three years old…but she was swallowing the water…I held on to her arm until we saw some buoys in the river".
She recalled seeing search boats with lights in the distance away and hoping one would head their way, but none did.
"I kept looking for Kenneth, my brother and Royden, Ena's husband as I felt they would have looked for us."
Sherry told the Guyana Chronicle that at night she drifted closer to Suriname, while at day she was closer to Guyana. She said she knew because of the chimneys of the Skeldon sugar factory.
She recounted that after holding on to the nape of Ena's dress to help her breathe, her friend said, "Sherry, all those who I have offended I beg God for forgiveness. Thereafter nothing more was said although I was speaking to her."
"She was not responding and eventually I had to let her go...I then said to myself 'Oh God I am alone'. However I remained focused, I did not give in to the raging seas. I did not consume any water…I held on to the bucket and wherever it took me I went with it.
"You know, there were other buckets in the boat but, the five-gallon Shell bucket floated my way and I grabbed it.
"There were times when the water seeped into it but I would quickly empty and reuse it. My life jacket zipper would unzip, but I took my teeth and pulled it up again.
"I do not know what time it was when I felt sand under my feet; I think it was a sand bank and I stayed there, and during that time my nephew Henry came. However after we conversed, I dozed off and when I awoke I did not know where I was…there was a hut made from coconut tree leaves but nobody was inside…at daybreak I saw cows coming toward me and I saw tyre tracks in the sand.
"As I walked further to where the cows came from, I called out but no one answered. I continued walking and I saw a young man on a bicycle and I asked him where I was and he said aback Number 57 Village, Corentyne.
"After realizing that I was a survivor of the river tragedy, he offered me a bottle of water which I used to wash my face after which he walked me to the main road which I was overwhelmed at seeing".
She said an employee from the Skeldon sugar estate who was on a motorcycle was shocked and shaking at seeing her, as everybody had given her up for dead.
"He phoned the Reno Hotel and my brother and others came to pick me up It was when I saw my brother and hugged him that I realized that I was very much alive. I had survived."
She said she would be returning to Brooklyn on Sunday after the burial of her friend and cremation of her sister.
One item that will not be left behind here is the five-gallon plastic bucket which she stayed afloat on, she said.
---
Update: Kaieteur News, 27 october 2008
Guyana/Suriname River tragedy…
Survivors recount ordeal at sea
"I watched as waves snatched my sister, friend", Sherry Ann Haynes
"After I reached to shore, I feel so happy I found the energy to run for help", Leslie Owen Austin
The relatives of Henry Gonsalves, who is still missing following last Friday's boat mishap in the Corentyne River which has so far claimed the lives of five, are still hoping for the best.
Their hopes were heightened yesterday after Sherry Ann Haynes, a visiting nurse from the USA, who was also a passenger on the ill-fated boat, was found alive.
She managed to stay alive by clinging onto a sealed bucket, and floated ashore early yesterday morning near Number 68 Village, after more than a day in the treacherous waters of the Corentyne River.
The body of another victim, boat owner Roy Ramdass, also floated ashore yesterday.
The search continues for Henry Gonsalves, who it was said may have been rescued by a Surinamese registered boat after Haynes reported that she had last seen him alive on a sand bank along with another stranded boat passenger.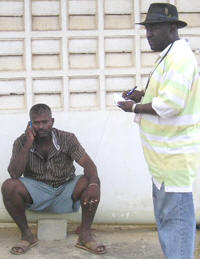 Kaieteur News reporter Dale Andrews speaking with Emo Bharat, brother of boat captain Roy Ramdass, outside the Skeldon Hospital mortuary
Haynes was not in a condition to speak with reporters yesterday, but she did relate to relatives her harrowing ordeal, which has taken a significant toll on her physical condition.
According to the woman's relatives, after the boat went down, Sherry Haynes, her sister Sheila, and friend Ena Hope were all huddled together, and although they were all reportedly wearing life jackets, they continued to clutch onto life saving objects.
The woman reported that they were hugging each other, sharing whatever means they had to stay afloat,
but the high waves began to take their toll on the women's resolve.
After a while, Sheila Gonsalves gave Sherry her handbag, saying that she was taking in water and she could not make it anymore.
Gonsalves eventually disappeared.
Sherry and her friend Ena Hope continued to cling for dear life onto a bucket.
Eventually, Sherry said, she lost consciousness, and when she awoke she was alone, as Ena Hope had also disappeared.
She, however, managed to float further inland, and landed on a sand bank, where she reportedly was joined by her brother Henry Gonsalves.
"He was alone… he was next to me," she told relatives.
Kaieteur News understands that the woman again lost consciousness, and when she came to again, as the tide rose, her brother, too, was missing.
Her ordeal was still not over, but she refused to give up.
The desperate woman floated until she reached a mudflat, but by then she was so weak that she again collapsed.
When she awoke early yesterday morning, she realized that she had reached ashore when she saw some cows being led out to a nearby pasture.
She managed to call out to the persons handling the cows, who immediately came to her rescue, having been aware of the tragedy.
The survivor was given a fresh set of clothing, some food and a much needed shower, after which her relatives were contacted.
According to a male family friend, when he went to collect Sherry, she told him that her brother Henry was alive, since she had last seen him on the sand bank.
"She told me, 'Please get something and go for him'. I went and informed the coast guard, and other relatives came and they got gasoline and a boat and went in search of the missing man," the family friend related.
However, up to press time, Henry Gonsalves was still not located, neither has there been word from Suriname to suggest that he was rescued.
For the entire day yesterday, Sherry Haynes remained in bed, recuperating from the ordeal which will live in her memory forever.
She came to Guyana with her father's ashes, and had travelled to Suriname to visit some of her relatives.
Speaking to this newspaper from his home in the USA, Keith Haynes, the survivor's husband, said that yesterday was the happiest day of his life after the tragic news he received on Friday.
"Friday was the worst day of my life. At about six o'clock (Friday), I received a call from my brother-in-law that my wife was missing. For the rest of the day it was chaos, until this morning (Sunday) when I got the good news that my wife had survived. I feel so good today!" an elated Haynes related.
He said that his telephone kept ringing throughout the weekend, with anxious persons even from as far as Canada enquiring about what had happened.
"That woman is a strong woman. I just spoke to her. She said that she kept thinking about her only daughter and her pet dog Studd," Haynes added.
Speaking about his sister-in-law, Shiela Gonsalves, who was one of the victims of the tragedy, Haynes said that her demise is very tragic.
Another survivor, Leslie Austin, went to church yesterday to thank the Lord for saving his life.
Austin, a sailor who worked with the boat owner, had told the media that he did not do enough to help the victims.
Austin had swum ashore to get help, but the help never arrived in time.
He said that after their vessel had capsized, another boat was passing and they tried to hail it, but the noise from the engine prevented those in that boat from hearing.
Austin then decided to swim ashore for help. "After I reach ashore, I feel so happy I suddenly find de energy fuh run looking for help," Austin said.
Meanwhile, the relatives of 48-year-old Roy Ramdass are preparing to bury his rapidly decomposing remains.
His body floated ashore at around 06:00 hours yesterday.
His brother, Emo Bharat, told this newspaper that his brother may have succumbed because of his recent diabetic condition.
He related that his brother had experienced a similar mishap two years ago while fetching logs from Suriname, but he managed to survive.
According to Bharat, his brother is familiar with the channel, but because the place was dark he could not see the seine, which entangled the propeller of the boat's engine, causing it to sink.
"Another boat was scheduled to leave Suriname with the passengers, but they decided that they want to travel with Roy because he was more popular," Bharat said.
That decision proved fatal.
He said that since the tragedy, travelling to Suriname by way of backtrack has almost come to a standstill.
His observation was shared by another Corentyne resident, Donnette Donald, who has vowed never to go that route again.
"This thing shake up the whole of Berbice. After we hear what had happened, everybody came out hoping that they (passengers) would have been found alive," Donald told this newspaper.
"I think it could have been me. I went one time to Suriname and that was when there was another (river) tragedy in which three persons died. I promised myself not to use backtrack again. I prefer to take the long way, the safe way," she added.
But other residents who frequently travel to Suriname say that there should be some regulation regarding the use of the river by both fishermen and operators.
"Everybody got to make money, both fishermen and boat men. Leave a certain channel for the boat men because they are paying for a licence, too," a resident said. He suggested that the authorities should demarcate a clear channel for the boat operators, and should prosecute fishermen who violate the demarcation.
The resident suggested that the victims may have panicked in the high waves, and may have also suffered from cramps, which caused them to go down before rescue could have reached them.
Post mortem examinations were done on all the bodies recovered so far, and it has been confirmed that they all died from drowning.
Bron/Copyright:

Nickerie.Net / Stabroek News / Guyana Chronicles / Kaieteur News

26-27 Oct 2008


E-mail: info@nickerie.net
Copyright © 2008. All rights reserved.
Designed by Galactica's Graphics