Nickerie.Net, zondag 16 oktober 2011
---
Nederlander dood na drugsvonnis van 50 jaar
Een Nederlandse drugssmokkelaar is woensdag in zijn cel in Gambia overleden, een dag nadat hij, net als een andere Nederlander en zes andere verdachten, was veroordeeld tot 50 jaar celstraf voor elk. In eerste instantie werd vermeld, dat het gaat om de Rotterdammer Rudy Rasoel Hamid Ghazi (foto), maar er zijn twijfels gerezen over de vraag welke van de Nederlanders nou is overleden. De Gambiaanse autoriteiten denken, dat de man, die dood in zijn cel werd gevonden, ook wel Dennis Wilgo Winter zou kunnen zijn.
Hun arrestatie stond in verband met de vangst van 2400 kg cocaďne. Het is vreemd, dat Gambia niet definitief kan vertellen welke van de mannen is bezweken. Winter was aanwezig op het terrein van Ghazi's 'visserijbedrijf' HolGam in Banjul, waar de 2400 kilo zuivere cocaďne werd gevonden. De Nederlandse ambassade in Dakar (Senegal) heeft een ambtenaar naar Banjul gestuurd, nadat het nieuws kwam over de overleden veroordeelde. Beide mannen hebben de Nederlandse nationaliteit, maar volgens onofficiële bronnen zijn ze allebei van Surinaamse afkomst. Ghazi had meer dan een miljard Amerikaanse dollar aan cocaďne in zijn loods in Gambia toen de lokale politie hem inrekende.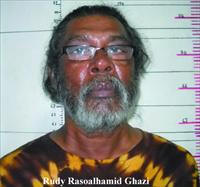 Rudy Ghazi
De Telegraaf bracht woensdag zijn verhaal. Ghazi heeft bijna anderhalf jaar in voorarrest doorgebracht. Hij was zeevishandelaar en heeft altijd beweerd onschuldig te zijn. De Gambiaanse justitie ziet Ghazi als het brein achter een grote cokelijn tussen Zuid-Amerika en Europa, met het West-Afrikaanse landje als opslagplaats en tussenstation. Carlos Sanchez was het kopstuk van de Venezolaanse groep met wie Ghazi in Guinee-Bissau een deal zou hebben gesloten over de import, opslag en export van Zuid-Amerikaanse coke.
Ghazi wordt ook verweten dat hij alle faciliteiten regelde voor het syndicaat uit Venezuela. Gambia is als klein land met een zwakke economie langs de westkust van Afrika al enkele jaren een aantrekkelijke schakel geworden voor drugssmokkelaars. Het schijnt relatief gemakkelijker te zijn hun spul vanaf de cocavelden in Latijns-Amerika langs omwegen naar Gambia te vervoeren om van daaruit de smokkel naar Europa voort te zetten. Vooral de talrijke naamloze eilandjes voor de kust zijn super voor de smokkelaars.
Een deel van de 2400 kg cocaine was op een van deze eilandjes gevonden. Ghazi huurde voor €250.000 per jaar een compleet tropisch vakantieoord af, Baobab Island, dat lag verscholen in de jungle, in de delta van de Gambiarivier. Aan de steiger lagen snelle boten met grote buitenboordmotoren klaar, in de vakantiehuizen stond geavanceerde maritieme communicatieapparatuur, waarmee contact kon worden gehouden met schepen op volle zee. Ook vond de politie op Baobab Island een kwart miljoen euro en automatische geweren, pistolen en munitie. Ghazi liet eerder weten gefolterd te zijn tijdens het verhoor, om hem aan het praten te krijgen.
---
Dutch Dies in Gambian Prison
Friday, October 14, 2011
A Dutch national last Sunday night died under unclear circumstances while in remand at Mile 2, Gambia's maximum jail cell at the capital City of Banjul. Mr. Dennis Wilgo Winter, was standing trial at the magistrates' court in Banjul on charges of drug offences alongside seven other foreign nationals, including West Africans and South Americans who were impounded with over 2 tons of cocaine kept in a warehouse in Bonto village in May last year.

Mr. Dennis Wilgo Winter (far right)
News of the Dutch man's death was disclosed by Gambia's prison authorities following a pressure by the magistrates' court in Banjul after his lawyer insisted that the case would not proceed without his client's presence. "I am sent by my Director General of Prisons to inform the court that the 4th accused died on Sunday 9th October 2011, at night," a prison medic disclosed to the shock of the crowded courtroom. Mr. Babucarr Jatta did not reveal the circumstances of the German national's death, but informed the court that his body was at the mortuary at the Royal Victoria Teaching Hospital in Banjul.
Meanwhile, the rest of the foreign nationals, who have so far survived Gambia's reported terrible prisons, were sentenced to fifty years in prison after found guilty of charges of drug trafficking, unlawful importation and possession of firearms. They are: Ephriam Micheal Chiduben, a Nigerian, Juan Carlos Sanchez, Eric Bottini, Dose Fermin, Juan Carlos Diaz, and Esteaban Zavala, all Venezuelans, George Sanchez, a Mexican/Liberian national, as well as Rudy Rasoehamid Gazi, another Dutchman.
"I have tried a lot to temper justice with mercy, but the court should not also lose sight of its responsibility in protecting the citizenry from drug abuse or trafficking," magistrate Tabally, said in his rulings. He said drugs-related problems escalated the crime rate in the country, and the court must ensure that the country is drugs free by imposing heavy sentences or fines in order to serve as a deterrent. "I am really shocked by the judgment; I would appeal against the judgment at a superior court, as soon as possible," defense lawyer Lamin Camara told reporters after the lower court's verdict.
Author: Baba Sillah
---
Drug Agency Makes Big Catch Seize cocaine worth over US$1BN
Africa » Gambia / Wednesday, June 09, 2010
The National Drug Enforcement Agency (NDEA) has successfully made one of the biggest drug seizures in Gambian history in their quest to make the country a drug-free environment following the arrest of 12 suspects. The suspects were said to have been involved in trafficking over 2 tonnes, 340kgs, 500 grams of cocaine worth over US$1 billion which was stored in a warehouse in Bonto and at the Baobab Island in Kuloro, Kombo East, Western Region.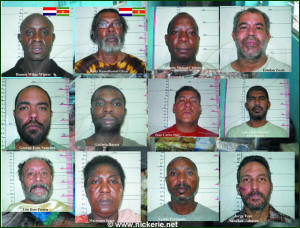 Click on the picture enlarge
The suspects are: Varela Fernando, a Cape Verde/ Dutch national; Rudy Rasoalhamid Ghazi, a Dutch national; Godwin Barset, a Ghanaian/Sierra Leonean national; Maimuna Sesay, a Nigerian/Sierra Leonean national; Jorge Ivan Sanchez-Tabares, a Mexican/Liberian national; Dennis Wilgo Winter, a Dutch national, Ephiam Micheal Chidubem, a Nigerian; and Juan Carlos Sanchez Eric Porping, Luis Dose Fermin, Esledan Zuala, George Ivan Sanchez Juan Carlos Diaz, all Venezuelan nationals.
Chief Inspector Abdoulie Ceesay, the public relations officer of the NDEA explained to the Daily Observer yesterday how the information reached their office and the entire operation which successfully yielded this dividend.
Below is the full story as narrated by PRO Ceesay; "The first incident happened on the 12th May 2010 when the National Drug Enforcement Agency officers at the Brufut PIU Station got a tip-off that some Nigerians residing in Brusubi, Taf Estate were suspected of dealing in illicit drugs. A team of officers were dispatched to the site and upon arrival, they met one Maimuna Sesay, claiming to be a Nigerian/Sierra Leonean national. She was there with one Varela Fernando from Cape Verde and Godwin Barset, a Ghanaian. These three individuals were found in the house. The officer introduced themselves and told them that they (3 of them] where suspected of involving in drug dealing which they cooperated in the investigation.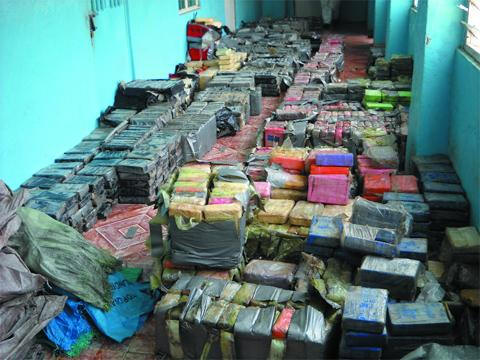 During the search, the officers recovered 3 parcels weighing 3kg, 360grams. The three suspects were then arrested and questioned about the source of the cocaine. During interrogation, they revealed that they got it from one Ephiam Micheal Chidubem, a Nigerian national who was lodged at Coco Ocean Hotel.
The officers went to Coco Ocean and met Ephiam Micheal Chidubem who was arrested and interrogated about the issue. He later admitted giving 1 kilo to Maimuna Sesay. He (Ephiam Micheal Chidubem) was asked about the source of the cocaine and he confessed that Carlos Sanchez, a Venezuelan national gave it to him. When asked about the whereabout of Carlos Sanchez, he said he did not know where Sanchez was residing. On the request of the officers, Ephiam Micheal Chidubem called Carlos Sanchez to meet him in the hotel as if they where conducting normal business. When Carlos Sanchez came, the officers arrested him and both of them were escorted to the NDEA office in Kanifing for further investigation.
During further investigations, the officers went to Carlos Sanchez's residence in Kotu and conducted a search but nothing was found in the compound. During the search, a white Ford pick-up (American type) appeared around the vicinity and immediately when they noticed the presence of the officers in the compound, they fled. The community alerted the officers and they chased the vehicle and could not apprehend them.
But later, the investigation led the officers to the Hol-Gam Company where Carlos Sanchez is a shareholder and surprisingly after reaching the Hol-Gam Company, the officers saw the same Ford pick-up that was seen at the residence of Carlos Sanchez parked inside the premises of Hol-Gam Company. The officers asked who parked the vehicle and it was revealed that Juan Carlos Diaz and Luis Dose Fermin, both Venezuelan nationals, drove the vehicle into the premises. They were found there by the officers and later arrested . The officers later met the managing director of the company, one Rudy Rasoelhamid Ghazi, a Dutch national. At that point, the three were arrested and taken for interrogations.
Later in the investigations, it was revealed that they have a warehouse in Bonto and another one at the Baobab Island in Kuloro in Kombo East,Western Region. A team was dispatched to Bonto and Kuloro and upon arrival at Bonto, vehicles were found parked at the site and communication handsets, satellite phones and Global Positioning System (GPS) were recovered. When the officers proceeded to Kuloro, they found reflectors and other items that they thought might have been used in the sea during their transactions.
When that happened, the executive director of the National Drug Enforcement Agency deemed it necessary to invite the Inspector General of Police, the director general of the National Intelligence Agency and the chief of Defence Staff of the Gambia Armed Forces and created an investigating panel comprising of all these sister forces to look into this very particular issue.
On Friday June 4th, 2010, the investigations revealed that there was a Bunka in Bonto were they kept 2 tonnes, 340kgs and 500grams of cocaine. Latest and sophisticated weapons and hundreds of thousands of Euros were also recovered at the Baobab Island in Kuloro."
Stern warning Meanwhile,Benedict Jammeh, the executive director of the National Drug Enforcement Agency has warned that any NDEA officer found dealing in drugs will be fired. He also warned the people to restrain from the use of drugs or else they will face the full force of the law when found in possession of any illicit drug. He finally commended the NDEA for carrying out the whole operation successfully.
Prosecution The 12 suspects will appear at the Banjul Magistrates Court today, Wednesday June 9th, to answer to the charges levelled against them.
Author: by Alhagie Jobe & Assan Sallah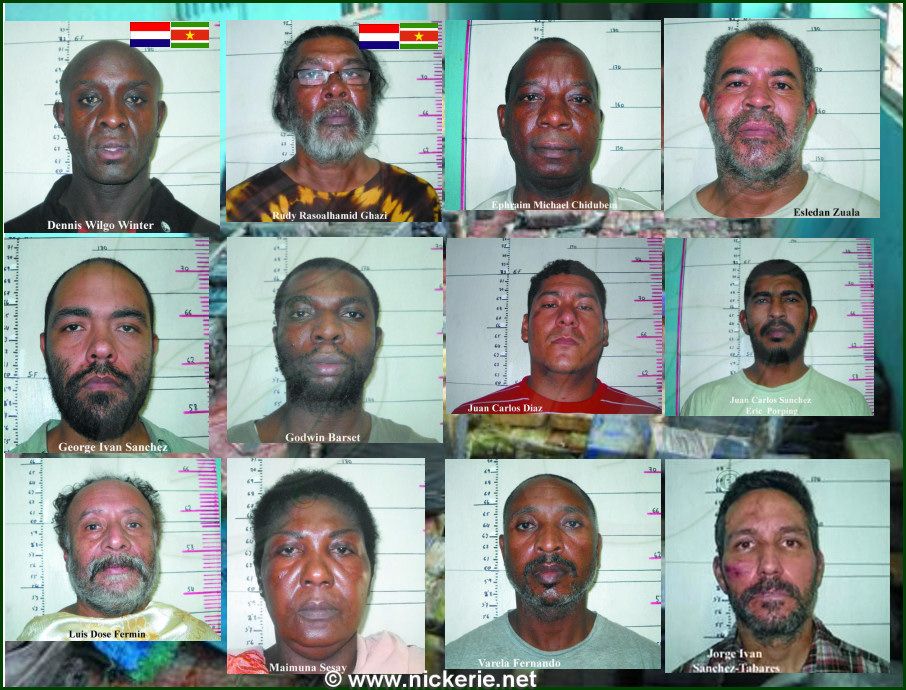 Bron(nen) / Copyright:

Nickerie.Net/Gambia Daily Observer

16-10-2011


Email: info@nickerie.net
Copyright © 2011. All rights reserved.
Designed by Galactica's Graphics