Nickerie.Net, donderdag 09 januari 2014
---
Caricom krijgt veeg uit de pan door Dominicaanse Republiek
PARAMARIBO - De Caricom, inclusief Suriname, krijgt een veeg uit de pan van Fernando Gonzalez Nicolas, een topdiplomaat en regeringsfunctionaris van de Dominicaanse Republiek. Suriname heeft, net als een aantal Caricom-landen, een verklaring de deur doen uitgaan waarin het zijn afkeuring uitspreekt over het voornemen van de Dominicaanse Republiek om ruim 200.000 personen van Haïtiaanse afkomst hun nationaliteit te ontnemen. Volgens Nicolas moeten de Caricom-leiders goed nagaan waar hun belangen liggen alvorens krasse taal te uiten naar hun partner. "Omdat de Dominicaanse Republiek de belangrijkste handelspartner van de Caricom is, vinden wij de wijze waarop de leiders hun Dominicaanse counterpart aanspreken vreemd."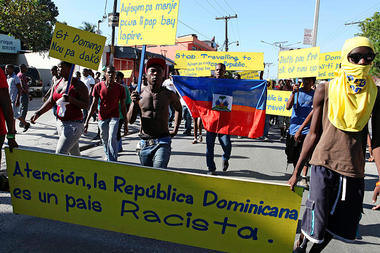 Haitians protest against a court ruling in neighboring Dominican Republic that strips Dominican citizenship from hundreds of thousands of children born over the last 84 years to migrants deemed to be living in the country illegally, in Port-au-Prince December 6, 2013. Marie Arago/Reuters , In Pictures Global Migration
Nicolas, die een dikke vinger in de pap heeft voor wat betreft de buitenlandse handel van zijn land, merkt op dat de Caricom voor ruim USD 1,6 miljard exporteert naar de Dominicaanse Republiek. De importen waren in 2012 ruim USD 160 miljoen, goed voor slechts 2,3% van de totale export van het land.
Volgens hem begrijpen de overige leiders niet wat de verhoudingen zijn met Haiti, waarmee de Dominicaanse Republiek samen het eiland Hispaniola vormt. Die zouden zich volgens Nicolas eerst moeten laten informeren over de geschiedenis van Hispaniola, alvorens de regering van de Dominicaanse Republiek te veroordelen. "Zij moeten ook hun belangen evalueren als handelspartner en een belangrijke consument van hun producten", schrijft hij in een verklaring.
"Naar onze mening is het zinloos, economisch en politiek", zegt hij over de discussie en het standpunt van de Caricom. De Dominicaanse Republiek is geen lid van de Caricom en heeft ook geen interesse zich aan te sluiten, merkt Nicolas op. 'De Caricom-leiders moeten in heroverweging nemen de toon van het dialoog met de Dominicaanse Republiek ten voordele van beide landen, broeders en buren."
---
Nickerie.Net Extra:

Can Haiti and the Dominican Republic repair relations after citizenship ruling?
A September court ruling strips Dominican citizenship from children of undocumented immigrants - mostly Haitian - even if they were born in the DR.
SANTO DOMINGO, Dominican Republic
Haitian and Dominican officials emerged from talks Tuesday with a broad-stroke agreement on how a controversial Dominican court ruling on citizenship would be carried out, marking the first sign of progress on an issue that has been central to a deteriorating relationship between the countries. In a joint statement, the delegations said the Dominican government assured Haiti that "concrete measures will be taken to safeguard the basic rights of people of Haitian descent" living in the country. The meeting came in response to a September ruling by the high Dominican court that strips citizenship from children of undocumented immigrants, even if they were born in the country and were previously registered.
The government, after reviewing birth records going back to 1929, said some 24,000 people will be affected, although human rights groups maintain the number is exponentially higher. The majority of people who could lose their citizenship in the Dominican Republic are of Haitian descent.
RECOMMENDED: Think you know Latin America? Take our geography quiz.
Fallout from the ruling, as well as disputes over migration and trade issues, has further harmed a historically rocky relationship that reached new lows in recent months between the Caribbean neighbors sharing the island of Hispaniola.
"These discussions may bring changes to things like migration, but that is really a separate issue from the ruling [on citizenship]," says Bernardo Vega, a Dominican historian and economist who formerly served as ambassador to the US. "The ruling has clearly hurt the relationship between Haiti and the Dominican Republic."
While the meeting was considered a success because it marked a fresh start for bilateral talks, the Dominican delegation did not change its position on the court ruling or how it would carry it out. Going into the meeting, the Dominican government said it would not negotiate the decision itself or how the government plans to implement it.
Dominican officials yesterday said they will put forth legislation in coming weeks to provide a pathway for those impacted by the court ruling to regularize their status and eventually naturalize, according to a statement from the presidential palace.
Neighbor to neighbor
The countries seemed bound for better days following the 2010 earthquake that decimated the Haitian capital. Dominicans rushed into the country to help, including then Dominican President Leonel Fernandez, who was the first head of state to visit Haiti following the disaster.
Yet, the relationship has crumbled since, with a pivotal moment coming in June when Haiti banned imports of Dominican chicken parts and eggs. The situation deteriorated further in November when Dominican migration authorities deported hundreds of Haitians in response to the murder of an elderly couple, which local residents blamed on Haitians.
Following the three-hour meeting in the northern Haitian border town of Ouanaminthe, Haiti said it recognized the Dominican Republic's sovereignty on the thorny issue of migration. While separate policy issues, migration and birthright citizenship are linked because the ruling overwhelmingly affects the children of Haitian migrants, who crossed into the Dominican Republic to work in sugar-cane fields and, later, in construction. While it seemed to accept the court ruling on citizenship, the Haitian delegation pushed for better treatment of those migrant workers, as well as for the loosening of visa restrictions for Haitians studying in Dominican universities.
While the Dominican Republic has long faced criticism for its treatment of Haitian migrants, the ruling has brought a fresh bought of shame both within the country and internationally, with rights groups denouncing it as a xenophobic attempt to further marginalize darker-skinned residents already struggling with poverty and social exclusion.
The Caribbean Community (CARICOM), a regional economic organization to which the Domincian Republic has been trying to become a full member, said that the court decision was not in accordance with its norms. The Obama administration, Caribbean and Latin American governments, the European Union, the United Nations, and others have also raised issue with the ruling.
"The Dominican Republic has been left in a very difficult position because of the ruling. The international response has [been] extremely critical," says Julio Cesar de la Rosa, a professor at the Autonomous University of Santo Domingo. "It's not clear what the country can do to improve its standing."
The countries plan to meet again Feb. 3 in the Dominican Republic.
Related stories
Bron(nen) / Copyright:

Nickerie.Net / No Spang /CSM

09-01-2014


Email: info@nickerie.net
Copyright © 2014. All rights reserved.
Designed by Galactica's Graphics