Nickerie.Net, maandag 14 september 2015
---
Suriname kampioen ICC World Cricket League Division Six
Essex-Engeland - Het Surinaams cricketteam is zondag in Essex, Engeland kampioen geworden van de ICC World Cricket League Division Six. In de finale heeft Suriname vriend en vijand verrast door favoriet Guernsey te verslaan met zes wickets. Nadat Suriname de toss gewonnen had, mocht Guernsey eerst batten en maakte 237 runs in 49,5 overs. De achterstand heeft Suriname goed weten te overbruggen, want met nog 29 ballen tegoed werden 239 runs in 45,1 overs gemaakt.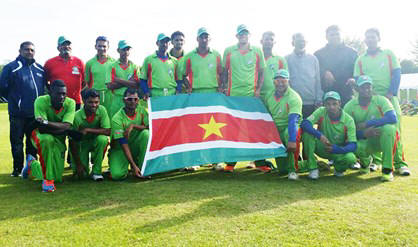 Aanvoerder Mohindra Boodram was de grote man aan de kant van Suriname. Hij maakte maar liefst 68 runs, terwijl hij ondersteund werd door Gavin Singh die 61 runs maakte en Muneshwar Patandin die goed was voor 31 runs. Tom Nightingale was bij Guernsey de bepaler, maar met zijn 65 gemaakte runs kon hij niet voorkomen dat Suriname met het kampioenschap naar huis ging.
In het kamp van Suriname heerst er een feestvreugde. Het is volgens voorzitter Raj Narain van de Surinaamse Cricketbond, die ook in Essex aanwezig is, een bijzonder prestatie. Samen met Guernsey promoveert Suriname naar divisie vijf. "Natuurlijk is dit een mooi moment voor Suriname. Wij zijn kampioen en promoveren naar een hogere divisie. Top prestaties van het team," aldus Narain ingenomen.
---
Singh scoops Player of the Tournament award as Suriname are crowned WCL Division 6 champions
Vanuatu finish third after rain-delayed match with Norway; Wesele stars as Fiji finish fifth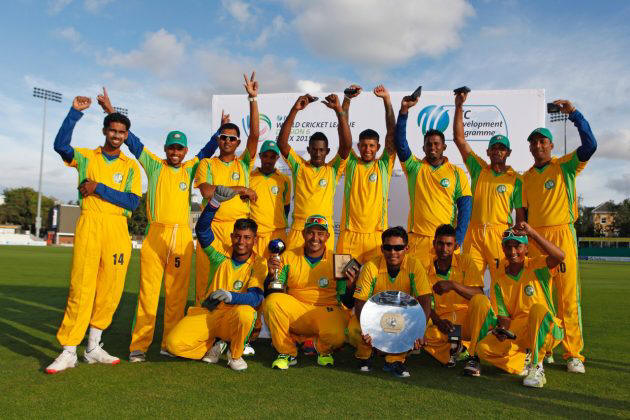 Gavin Singh delivered a master class again to pick up Player of the Match and Player of the Tournament awards to help Suriname beat Guernsey and lift the ICC World Cricket League Division 6 trophy.
The all-rounder scored 61 and took 5-42 as his side eased to a six-wicket win in the final of the week-long event at Essex's County Ground on Sunday. Singh, who already had two Player of the Match prizes from group games, said: "I feel great but everybody chipped in. It was a big team effort and we really played well. We played to the basics and that's good, and I enjoyed the atmosphere at this ground. Coming up to the tournament, we had really nice preparation, now we're very excited to be in Division 5. We've just got to wait and see who our opposition will be and then plan what's next."
After Guernsey were put into bat, openers Matt Stokes and Oliver Nightingale got off to a steady start and brought up the 50 in ten overs. Then Muneshwar Patandin and Singh made the breakthrough for the South Americans.
Patandin had Stokes caught by Singh for 31 and then Oliver Newey was sent back to the pavilion on one as he was caught by Vejai Hirlal off the bowling of Singh. New man Tim Ravenscroft was stumped by Hirlal, and then Tom Nightingale joined his brother Oliver at the crease; the siblings both made their way to half centuries, with Tom making to 65 and Oliver 59. Singh then dominated the lower order to finish with a five-fer as Guernsey were all out for 237 in 49.5 overs.
Suriname captain Mohindra Boodram and Singh anchored their innings with a 122-run partnership. Boodram crashed his way to 65 and then was caught by David Hooper off Ravenscroft, while Singh continued on to his 61. Sauid Ahmed Drepaul joined Singh at the crease and hit a quick 30 off 37 deliveries to see Suriname over the line with 4.5 overs to spare. The result also meant Suriname exacted some revenge after Guernsey beat them by 43 runs in a Group A match at Halstead on Thursday. Both sides had already secured promotion to next year's ICC World Cricket League Division 5 by making the final.
Vanuatu eased their semi-final disappointment with a 91-run Duckworth Lewis victory over Norway to finish third in the tournament. Vanuatu excelled in the early stages, scoring at over a run a ball as Jonathon Dunn and Joshua Rasu shared a 120-run opening stand. Dunn top scored with 114 as his side registered an imposing total of 309-3. Then came the rain in Colchester and, after an hour-and-half delay, Norway were set the total of 251 to win via the DL method. But their innings never really got going after captain Raza Iqbal was dismissed for three in the fourth over. Waqas Ahmed, with 46, top scored for Norway as they ended at 159-8.
Fiji avenged Thursday's Group B defeat to Botswana by beating them in the fifth-place play-off match at Bishop's Stortford by 133 runs. For the first time in the tournament the Fijians batted out their entire 50 overs and got up to their highest score with 235-9. Their success was set up by a partnership between Player of the Match Jone Wesele (96) and Sekove Ravoka (60), as they put on 99 for the fourth wicket. Wesele's knock included nine fours and three sixes. Botswana's innings got off to a disastrous start and they were
64-6 in the 15th over. Their top scorer was skipper and wicket keeper Karabo Motlhanka with 30.
Essex batsman, Jesse Ryder who has been following the tournament with a keen interest said: "It is great seeing a global tournament here in Essex, I remember playing back at home in New Zealand in the Pacifica Cup and we had all the island teams like Fiji and Vanuatu come over and play and it was a fantastic event, this is a great opportunity for the teams playing and to help them develop as cricketing nations."
Tournament ambassador Ryan Ten Doeschate: "This has been a fantastic week for Essex bringing together teams from all across the world to play in the ICC World Cricket League Division 6, as someone who has played in this structure, I know what it must mean to the players and would like to congratulate all the teams who participated and to Suriname for being crowned winners."
Scores in brief:
Final at the Essex County Ground, Chelmsford
Guernsey 237 all out, 49.5 overs (Oliver Nightingale 59, Tom Nightingale 65; G Singh 5-42)
Suriname 239-4, 45.1 overs (Mohindra Boodram 65, Gavin Singh 61 not out)
Suriname won by six wickets
Player of the Match: Gavin Singh (Suriname)
3rd v 4th Play-Off at Castle Park, Colchester
Vanuatu 309-3 (50 overs) (Jonathan Dunn 114, P Matautaava 50, Nalin Nipiko 58 not out)
Norway 159-8, 36 overs (Waqas Ahmed 46)
Vanuatu won by 91 runs (Duckworth Lewis Method)
Player of the Match: Jonathan Dunn (Vanuatu)
5th v 6th Play-Off at Cricketfield Lane, Bishop's Stortford
Fiji 235-9 (50 overs) (Jone Wesele 96, Sekove Ravoka 60; Russel Withey 4-41)
Botswana 102 all out, 27.3 overs (Karabo Motlhanka 30)
Fiji won by 133 runs
Player of the Match: Jone Wesele (Fiji)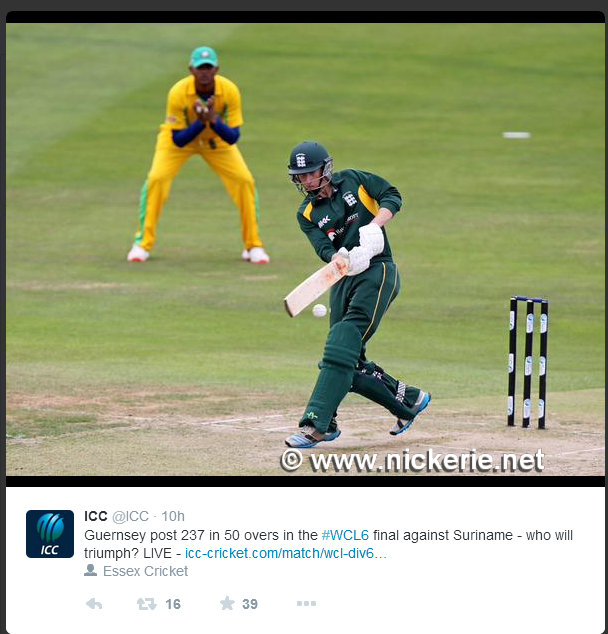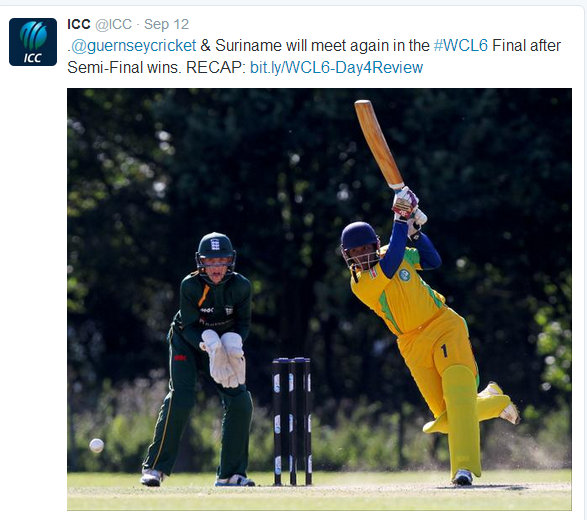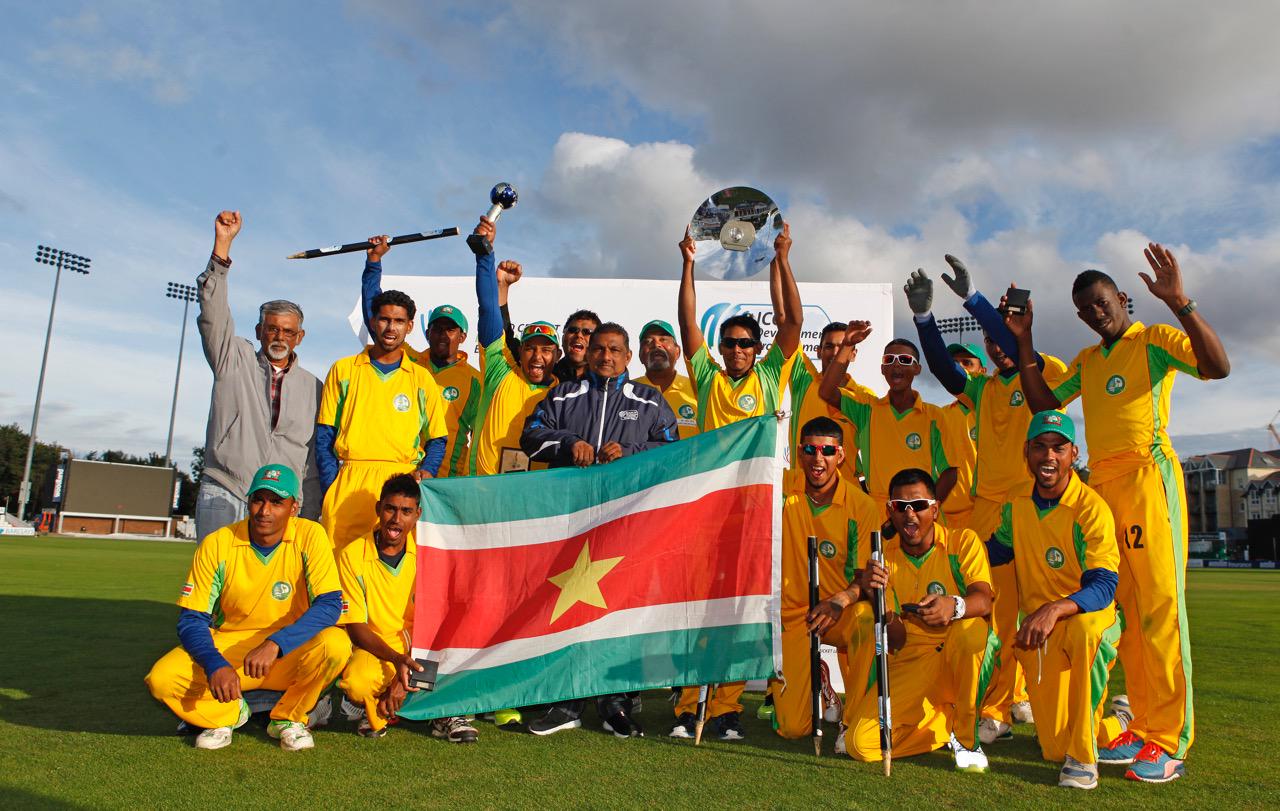 ---
Match Details
Toss: Suriname, who chose to field
Venue: County Ground, Derby
Umpires: AJ Neill, R Black
Referee: GF Labrooy
Playing XI
Guernsey
| | |
| --- | --- |
| 1 | LB Ferbrache |
| 2 | TJ Ravenscroft |
| 3 | JAJ Nussbaumer (C) |
| 4 | DR Hooper |
| 5 | MLA Ellis |
| 6 | OB Nightingale |
| 7 | MWR Stokes |
| 8 | JC Martin (W) |
| 9 | OE Newey |
| 10 | T Nightingale |
| 11 | W Fazakerley |
Playing XI
| | |
| --- | --- |
| 1 | AK Gokoel |
| 2 | S Ramjohn |
| 3 | M Boodram (C) |
| 4 | SA Drepaul |
| 5 | YP Dayal |
| 6 | MC Patandin |
| 7 | WA Haslim |
| 8 | G Singh |
| 9 | BB Bailey |
| 10 | V Hirlal (W) |
| 11 | HA Basropansingh |
Match Commentary
Sunday 13 September, County Ground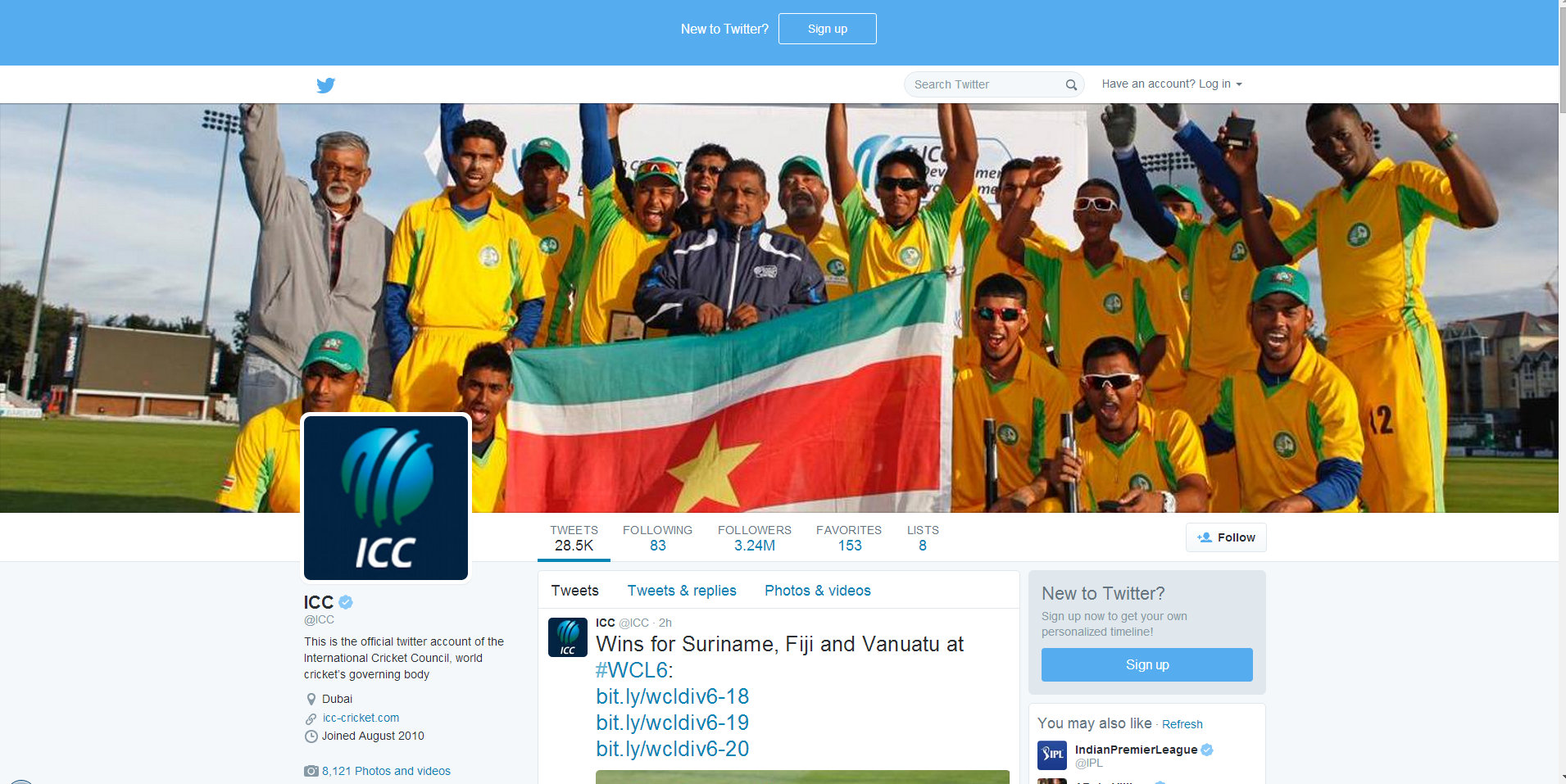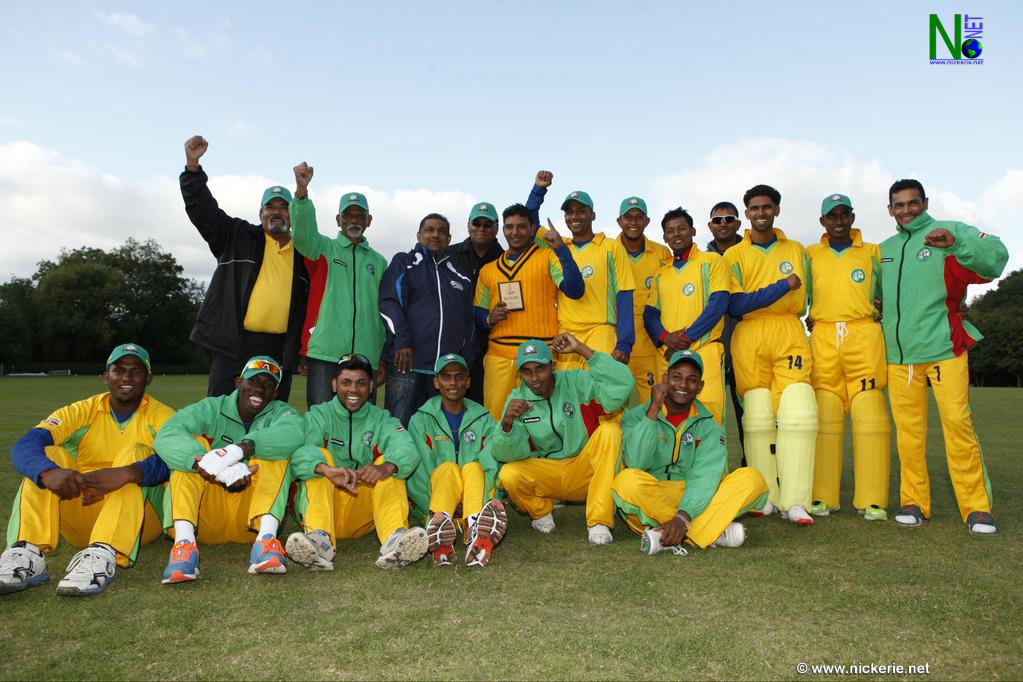 Bron/Copyright:
Nickerie.Net /ICC
14-09-2015


Email: info@nickerie.net
Copyright © 2015. All rights reserved.
Designed by Galactica's Graphics